The popular New Zealand Badminton League (NZBL) returns in 2022, taking shape in a smaller, condensed form – the Junior League. The three-day team event showcases twenty-four of New Zealand's brightest U15 and U19 talent, across two divisions in a four team round robin and play-off event format.
Within each team tie, all six matches will be played best of five games to 11 points, with no extension if tied at 10 apiece. The six matches; Men's Singles, Women's Singles, Men's Doubles, Women's Doubles and two Mixed Doubles will be hotly contested in this rapid-fire format. Just like the original editions of the NZBL, if the teams are tied at 3 matches apiece, coaches will select a Golden Game by process of elimination – for an 11-point game tiebreaker.
"Many of these junior players would have seen the NZBL live or on TV in the last couple years, now they have the opportunity to experience it's intensity and hopefully even a Golden Game!"
Accompanying each team are a number of coaches who either previously competed or coached in past NZBL seasons. These coaches will not only bring their first hand experience but also their insights into the recipe for team success.
Rikke Siegemund, NZ Head Coach comments, "The team structure is something that sets this event apart from many others, making new friendships and partnering with players from different associations. I think the teams who create a strong team spirit will do really well in the competition, and we will see the importance of how teams support each other."
All teams will be announced online and via social platforms (@nzbadmintonleague, @badmintonnewzealand) from Sunday 5th June.

The New Zealand Badminton Junior League runs from Friday 10th to Sunday 12th June, at Counties Manukau Badminton stadium.
New Zealand's para-athletes return to the international stage, competing at the 4th Fazza Dubai Para Badminton International from the 23rd - 30th May. With over 200 athletes from across the globe expected to descend on Dubai, the competition will provide an insightful benchmark for the New Zealand athletes.
Hawke's Bay's Marinda Jones and Ben Hasselman will make their mark across singles and mixed doubles events. Jones enters the Women's Singles WH1 category, with Hasselman competing in the Men's Singles WH2 event. Having only previously competed at Continental Championships, both players will be keen to get a gauge of the international level of competition. The Hawke's Bay pair will partner for mixed doubles for the first time, with only experience to gain from each match.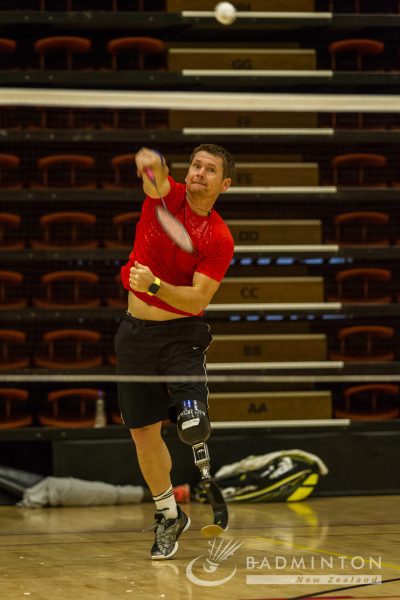 Waikato's Wojtek Czyz rounds of the trio of athletes competing in Dubai, with Czyz undertaking his international classification at his maiden event. Having previously competed internationally in athletics, Czyz's training ethic and competitive nature will no doubt shine through on the SL3 court.
New Zealand Para coach, Michelle Au accompanies the players to the UAE, "Dubai is the first time they've been able to compete outside of the Oceania region, it's going to be a real turning point for these athletes and their badminton goals. I'm excited for our athletes and hope they can ruffle a few feathers amongst the competition."
Draws and International classification take place on Monday May 23rd, with opening rounds commencing on Tuesday 24th May.
Follow the results from NZ's athletes here: Tournament Software Results
New Zealand's Edward Lau, Abhinav Manota and Jack Wang can proudly add another international title to their names, with a successful run at the 2022 VICTOR Oceania Championships.
The Continental Championships, originally postponed from February, was held in Melbourne from the 28th April to 1st May, with players from New Zealand, Australia, Fiji and Tahiti in attendance.
MEN'S SINGLES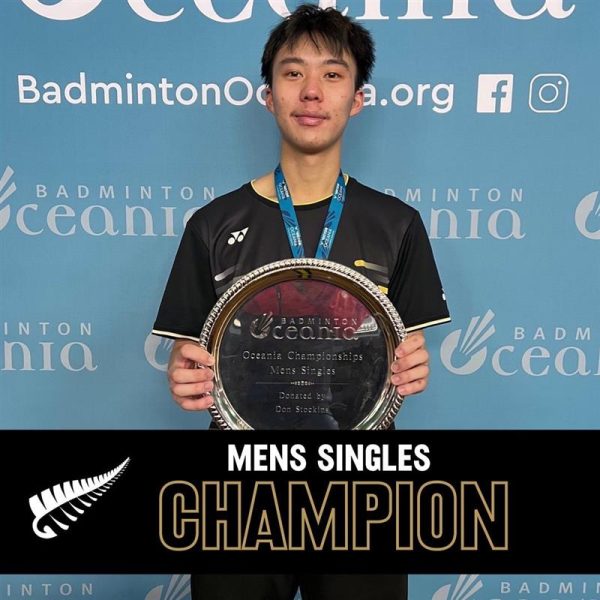 After being a finalist in 2020, North Harbour's Edward Lau was able to do one better in this year's edition.
Edward's path to the finals wasn't all smooth sailing, being pushed to three games along the way from Tahiti's Remi Rossi and fellow Kiwi Oscar Guo in the semi-finals. However, on Sunday morning Edward made light work of Australia's Nathan Tang, claiming the Men's Singles title in two straight games.
"I'm feeling very proud…I didn't feel any pressure and made sure I was able to play my game. This is definitely a big confidence booster",
Edward Lau [7] vs Nathan Tang (AUS) 21-18 21-10
Other notable mentions include semi final finishes from Oscar Guo and quarter-final appearances from Abhinav Manota and Ricky Cheng.
MEN'S DOUBLES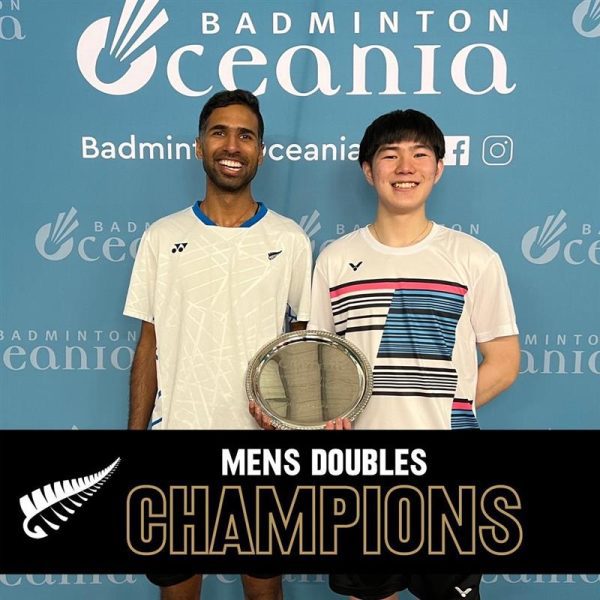 Reigning Men's Doubles champion, Abhinav Manota entered this year's Oceania Championships with a new partner in Auckland's Jack Wang. Prior to heading to Australia, the new partnership made its debut at the NZ Tour's Waikato Open, where the pairing had a gruelling match with fellow compatriots Adam Jeffrey and Dylan Soedjasa in the finals.
With players not being able to travel for tournaments due to the pandemic, players have not been able to gain any international points which resulted to an early rematch in the draw between Manota/Wang and Jeffrey/Soedjasa in the quarterfinals. With what could easily be the match of the tournament, this was the only time Manota and Wang were troubled to three games.
In the finals, Jack and Mani met Australia's Kenneth Choo & Ming Chuen Lim, taking the first game comfortably. The Kiwis trailed throughout the second game, but a few crafty serves and long rallies forced the game into extension, with the New Zealanders claiming the title in two straight games.
"In the second game, they stepped it up so we had to have a rethink and make a couple of tweaks to our gameplan. But towards the end, it was just the key to serve better and concentrate on the first three shots and that's how we go the game. Jack did pretty well towards the end with his serves when we were 18-20 down to bring it back. I'm over the moon, it's such a good feeling." Abhinav Manota
Abhinav Manota/Jack Wang [4] vs Kenneth Zhe Hooi Choo/Ming Chuen Lim (AUS) 21-14, 23-21
Other notable mentions include quarterfinals appearances from Dacmen Vong / Evan Wong, and Dylan Soedjasa/ Adam Jeffrey.
MIXED DOUBLES
The last match of the day saw New Zealand's leading mixed doubles pair, Anona Pak and Oliver Leydon-Davis take the reigning Oceania Mixed Doubles Champion Gronya Somerville from Australia with her new Partner Kenneth Choo, to a thrilling final that was pushed to three games.
Leydon-Davis and Pak looked solid and in control of the first game but Choo and Somerville snatched it away in the last few points of the game. After the break, Leydon-Davis/Pak fought well to take second game and push the Australians to a third game. This ultimately led to the Australians taking the title where Gronya Somerville remains as the Oceania Mixed Doubles Champion with Kenneth Choo.
Kenneth Choo / Gronya Somerville (AUS) v Oliver Leydon-Davis / Anona Pak (NZL)[1] 21-18 19-21 21-12
Other notable mentions include quarter-final finishes from Jack Wang / Justine Villegas and Evan Wong / Camellia Zhou.
WOMEN'S SINGLES & WOMEN'S DOUBLES
Following the late withdrawal of a few players unfortunately due to covid, New Zealand had no representatives in the Women Singles, and only one pair in the Women's Doubles.
The Auckland junior pairing of Camellia Zhou and Angelina Ung made their debut in the senior Oceania Championship, taking a win against Australians Yee-Yuan Lim and Isabella Yan, leading to a quarter-final appearances, before exiting to the first seed and eventual winners, Joyce Choong and Sylvina Kurniawan from Australia.
Pictures and quotes have been republished with thanks to Badminton Oceania.
For more updates from the event:
Updated: 4th May 2022
New Zealand has withdrawn their team from the BWF Thomas Cup Finals, due to start later this week in Bangkok.
During the recent Oceania Championships, and in the subsequent days after this event, several New Zealand players have tested positive for COVID-19. This has resulted in a severely depleted team, with the possibility of additional positive cases detected upon arrival in Thailand. The difficult decision to withdraw the team was made, considering all factors, and putting player welfare at the forefront of our thinking. We are focused on supporting the remaining New Zealand players in Australia and getting them home safely, as soon as possible.
---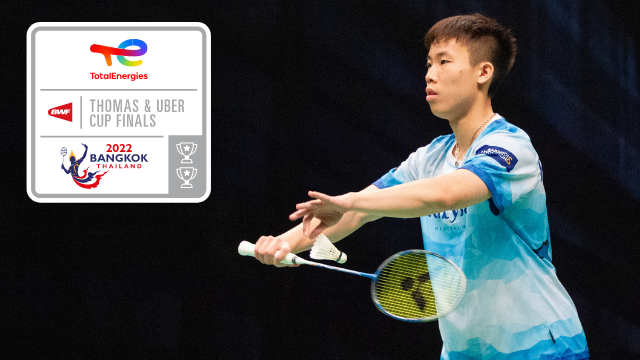 Six years since their last appearance, New Zealand has qualified for a place in the BWF World Men's Team Championships (Thomas Cup) in Bangkok, Thailand.
Following the cancellation of the Oceania Qualifying Teams event in February, the continental qualifying position was determined based on the country's world ranking points across singles and doubles disciplines. New Zealand prevailed within the Oceania region, accepting their spot to contest the Thomas Cup.
The New Zealand Men's team named to compete at the Thomas Cup are:
Adam Jeffrey (Auckland)
Dylan Soedjasa (North Harbour)
Edward Lau (North Harbour)
Joshua Feng (North Harbour)
Oliver Leydon-Davis (Waikato)
Ricky Cheng (North Harbour)
Ryan Tong (Auckland)
National Coach, Rikke Olsen Siegemund accompanies the team throughout their international campaign.
The New Zealand team will depart at the end of April to compete at the Oceania Championships in Melbourne, ahead of the Thomas Cup commencing on the 8th May.
New Zealand's top mixed doubles pairing, Oliver Leydon-Davis (Waikato) and Anona Pak (North Harbour) have reached new milestones within their badminton careers, with career-high rankings and prestigious opportunities unlocked this year. The pair are currently in Europe competing in four events, including the renowned YONEX All England Super 1000, alongside the German Open, Swiss Open and Orleans Masters.
Badminton New Zealand National Coach, Rikke Olsen Siegemund has been working closely with the pair in the lead-up to the European campaign.
"Anona and Oliver's preparations have been as good as we could have hoped for in these challenging times. We have been prioritising them in the lead up to this campaign, with access to additional private sessions with [fellow coach] Björn. Within the National squad sessions, I have tried to set exercises for them to target the specific areas we wanted to work on. The challenge for them will be to embed these new learnings into their game plan, whilst being able to perform at their best against world class players."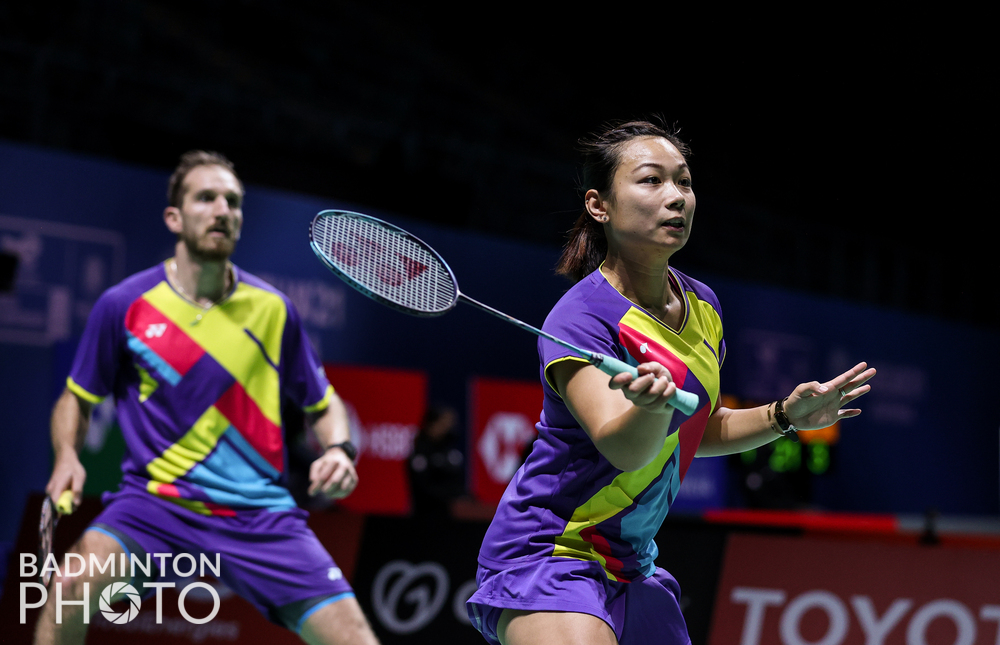 YONEX GAINWARD German Open
Oliver and Anona opened their European leg with the YONEX GAINWARD German Open last week, taking on Rinov Rivaldy and Pitha Haningtyas Mentari on Indonesia. Rivaldy/Mentari prevailed in two short games, overpowering the Kiwis 21-10, 21-6. Following their early exit in Muelheim, Oliver and Anona returned to the training court, turning their focus towards Birmingham, and this week's YONEX All England Championships.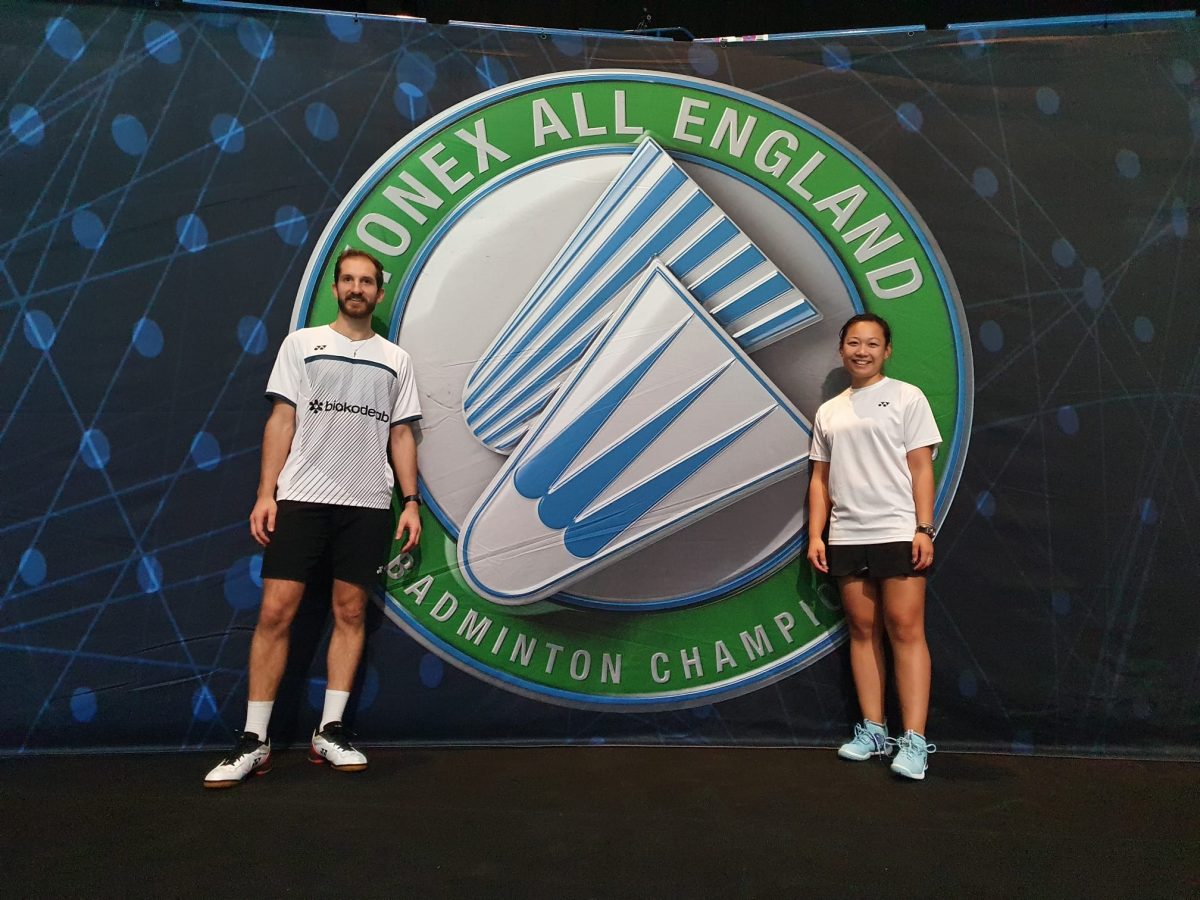 YONEX All England Championships
After lingering as the first reserves for numerous weeks, Anona and Oliver received the official confirmation of their place in the draw, following the withdrawal of Russian pairing Alimov and Davletova. The Kiwi pairing entered the Mixed Doubles draw against Germany's Jones Ralfy Jansen and Linda Efler.
Anona Pak talks of her first experience at the YONEX All England.
I felt proud to be representing NZ to play at the prestigious YONEX All England. For a long time, I've only imagined competing in such a tournament and wondered what it would actually feel like. If I were to tell a 20 year-old me, she would never believe it.
"It would've been great if we had progressed through to the second round - we did have our chances against the Germans, however we made a few too many mistakes. We'll take that and work on it the next few days before the Swiss Open this week, and the Orléans Masters the week after," she continued.
"Overall it was definitely a great experience. I have missed having spectators watching live badminton -the crowds at All England were wild and I really enjoyed playing in the event. We hope to play again next year."
The Kiwis bowed out in the opening round, defeated by Jansen/Efler 21-16, 21-17.
YONEX Swiss Open
The third leg of their European campaign saw our Kiwis arrive in Basel, with a first round match against Denmark's Mathias Thyrri and Amalie Magelund.
For all up to date results, follow Badminton New Zealand on social media.
Amongst the disruptions of 2021, the traditional model for our junior selection camps was revised to become a hybrid model run over a fortnight in the January school holidays.
Our U15 cohort of talented juniors from across the country trialled at one of two selection camps held in Auckland and Wellington with coaches Tracey Hallam, Kenneth Yew, Brent Miller and Rikke Olsen Siegemund.
The U17 and U19 cohorts were split, with a pre-selected squad training alongside the NZ Senior Squad over a weekend in Waitakere, while the remaining squad positions were open with a combined U17 and U19 Selection Camp held in Waitakere over three days, lead by coaches Rikke Olsen Siegemund, Fanny Megahwati and Nick Chambers.
We are excited to congratulate the players selected for the 2022 NZ U15 Development and NZ U17/U19 Squads.
NZ U15 Development Squad
Sienna Baxter (HV)
Ansen Bee (BOP)
Melody Cai (AK)
Felicia Chen (NH)
Raymond Dai (NH)
Victor Hu (WTK)
Nepul Jayawerdhane (STH)
Anna Kim (CAN)
Wesley Lau (AK)
Josie Lee (WKO)
Eva Li (NH)
Yanxi Liu (NH)
Elsa (Shuyu) Lu (NH)
Tobias Miao (NH)
Mieka Miller (BOP)
David Nguyen (WKO)
Lucas Qin (WKO)
Kelly Shen (CAN)
Mads Siegemund (NH)
Ryan Soo-Jones (NH)
Jay Xuan Tan (CAN)
Natalie Ting (NH)
Arvind Vairavan (AK)
Oscar Wu (AK)
Mia Xu (AK)
Olivia Yang (WTK)
Rosie Yang (AK)
Tony Yu (NH)
Timothy Yuan (NO)
Rebecca Zhang (NH)
Josephine Zhao (NH)
Jack Zeng (NH)
NZ U17/U19 Squad
Tristan Apalisok (AK)
Chris Benzie (NH)
Isaac Chan (WTK)
Lillian Cao (NH)
Hugo Chou (WTK)
Ethan Chuang (NH)
Raphael Deloy (WKO)
Alex Galt (WEL)
Victoria Guo (WKO)
Daniel Hu (AK)
Jack Ji (NH)
Billy Li (AK)
Joanna Li (WKO)
Smile Li (NH)
Eric Lu (AK)
Jaden Mingoa (NH)
Sam Navarra (WN)
Berry Ng (NH)
Parthiv Pabari (WTK)
Anna Ryu (NH)
Nanna Siegemund (NH)
Amanda Ting (NH)
Angelina Ung (AK)
Aveer Virk (WKO)
Max Wu (NH)
Lechuan Xiao (NH)
Grace Xiong (AK)
Camellia Zhou (AK)
Coco Zhu (AK)
Lezhi Zhu (HB)