This series puts the spotlight on Badminton New Zealand's powerhouse technical officials. Get ready to be inspired by their motivations, fun facts, and pro-tips!
Meet Julie Carrel, a true jack-of-all-trades in the world of badminton. From representing New Zealand as a player at the Commonwealth Games to being a former National Champion, delivering the BWF World Junior Championships 2007, and successfully leading the New Zealand Open for over a decade, Julie has done it all! Julie is a highly respected referee and is currently officiating the 2023 Sudirman Cup in Suzhou, China. On top of all that, Julie serves as the Secretary General of Badminton Oceania.
Despite her busy schedule, Julie always finds time to give back to technical official development in New Zealand. A recent highlight was the National Referee Development weekend that she organised in May.
At Badminton New Zealand, we're excited to continue working with Julie to develop technical officials and deliver outstanding events for many years to come!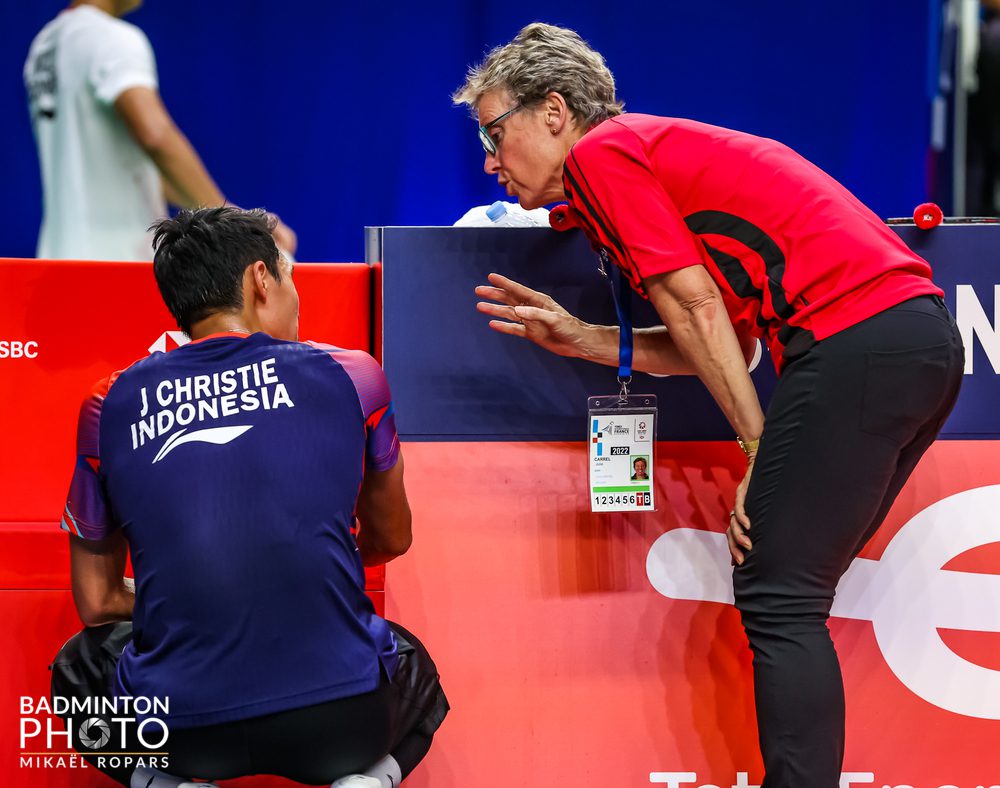 Role: BWF Referee (since 2014)
Association: North Harbour
Nickname: Jules
Best Kiwi Holiday Destination: Cooks Beach. We have a holiday house there, so it's my place to chill out and go fishing.
Favourite Travel Meal: Ice Cream and Coffee!!
Tell us about your background in badminton prior to officiating.
I started playing at intermediate school and represented New Zealand for 12 years. Since the late 1980's I've worked in badminton across a variety of roles, starting off in coaching, then moving into administration and events. A highlight was running the BWF World Junior Championships in 2007 and the New Zealand Open from 2004, including taking over the management rights and running the Open through my own business between 2013-18. Running the New Zealand Open gave me greater insight into the role and responsibilities of a Referee and provided me with invaluable tools and a greater understanding of how top level events operate.
What do you enjoy most about officiating?
So much, including meeting people, travelling to new places, watching world-class badminton and just spending time giving back to a sport which I am very passionate about.
Do you have a dream event to attend or goal to achieve?
I would love to officiate at an Olympic Games, although opportunities are very limited for Referees. I have been fortunate to already have attended some of the top events in the world, including the All England Championships.
What is your best badminton story?
I will never forget the roof falling in at the Vietnam Open 2014. We were very lucky that nobody was injured or killed in that incident; the good thing was a new venue was found and that tournament restarted 20 hours after the collapse.
I also went to the Nigeria Open as a Referee in 2019 which was definitely an experience, not sure it is one that I would look to do again.
Most events provide a new story, you never know what will happen and what challenge will be thrown your way. Thankfully, I like challenges!
What is your top tip that you would like to share with our officiating community?
Keep up to date with the rules and regulations, don't be afraid to ask others for help or their opinion and keep looking at other events to learn. But most importantly, keep enjoying what you do, if you don't enjoy it, don't do it.
If you're interested in following in Julie's footsteps and beginning your career as a badminton referee, please reach out to the Badminton New Zealand Technical Official Committee (nzto@badminton.org.nz).
This new series shines a spotlight on Badminton New Zealand's hard-working Technical Official community. Hear their motivations, fun facts, pro-tips, and a few inspiring tales too!
This week we begin with Trish Gubb. Trish has been umpiring for New Zealand for over 20 years, including the past 12 as a Badminton World Federation Umpire. Over this time Trish has travelled the globe umpiring the best players in the world, has supported both Badminton New Zealand and Badminton Oceania through our Technical Official Committees and she's offered training and advice to many of the Umpires that we now see at tournaments throughout New Zealand. It's fair to say that technical officiating in New Zealand would not be what it is today, if not for Trish's hard work to grow the sport.
Badminton New Zealand would like to thank Trish for the 1000's of volunteer hours she's contributed, her willingness to continually challenge all around her to reach their potential and for being a tremendous ambassador for Badminton New Zealand worldwide.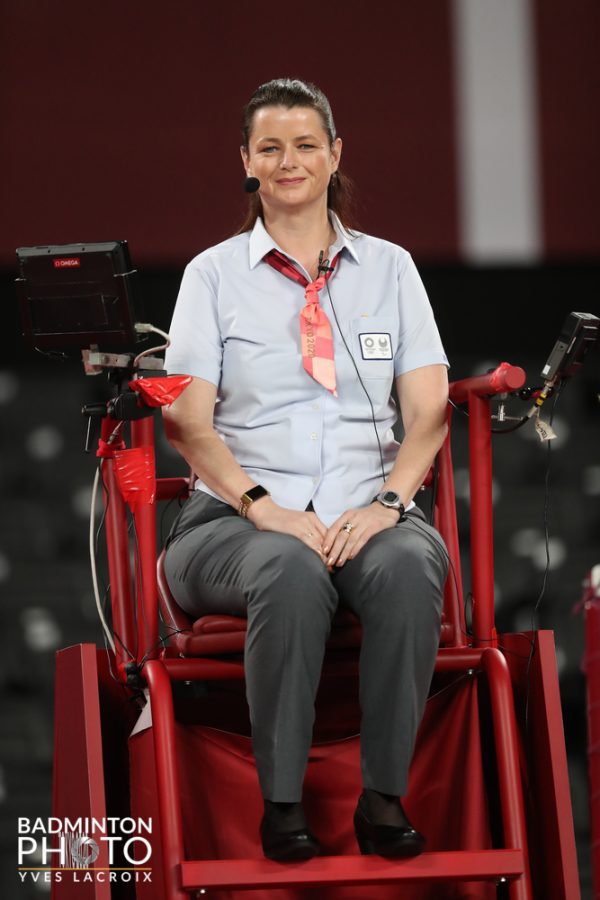 Role: BWF Umpire (since 2011)
Association: Auckland
Nickname: Hsirt (from my Dragon Boating days)
Best Kiwi Holiday Destination: Taupō
Favourite Travel Meal: The local delicacies - just not too spicy!!
Tell us about your background in badminton prior to officiating.
I began playing badminton with my family at the age of five and then club and inter-club from nine years old. Through my younger years I never made a regional team and then as an adult I never really left D-Grade. You can be sure that my playing skills did not get me where I am today and my doubles serves are definitely not legal!
What do you enjoy most about officiating?
I love the concept of 'fair to both sides' and being able to deliver that for players. I also appreciate all of the people I work with and the great friends that I have made!
Do you have a dream event to attend or goal to achieve?
I have been lucky enough to achieve many of my goals, but I am very much looking forward to attending The All England Championships this year. As the oldest tournament in the world I have long wanted to officiate there.
What is your best badminton story?
Umpiring the Men's Singles Final at the Tokyo Olympics! It was my proudest moment ever to be selected for that match and it was such an honour to be trusted to deliver it.
What is your top tip that you would like to share with our officiating community?
Treat every match as if it was the most important match that you have ever worked. Use all of your skills to deliver the best presentation and fairest result for the players. And remember, every match is someone's final!
We wish Trish the best of luck as she represents New Zealand once again at the All England Championships next month.
If you're interested in following in Trish's footsteps and beginning your career as a badminton umpire, please reach out to Sam Paterson (sam@badminton.org.nz) to discuss upcoming opportunities.
Badminton New Zealand has today announced it has cancelled the Barfoot & Thompson New Zealand Badminton Open, scheduled for 22-27 November, 2022 at Eventfinda Stadium in Auckland. This decision is a result of ongoing Covid complexities which continue to impact the viability of the event for both players and fans.
While the decision to cancel the Open will be disappointing for the badminton community, Badminton New Zealand are buoyed by the recent announcement that the New Zealand Open has been confirmed within the HSBC BWF World Tour from 2023-26. Badminton New Zealand CEO Stephen Nelson is excited by the long-term commitment from Badminton World Federation to continue their support for the New Zealand Open.
"The Barfoot & Thompson New Zealand Open is an important event for badminton within New Zealand and we're incredibly excited to bring this outstanding event back for our fans in 2023."
Badminton New Zealand are working closely with Badminton World Federation as they finalise the 2023 calendar and look forward to shortly announcing the dates for the 2023 event.
Due to the cancellation of the Open, Badminton Manawatū are also announcing the cancellation of the Manawatū International that was due to follow the World Tour 300 Event. Manawatū International Event Director James Veitch was disappointed to lose the International in 2022.
"An international badminton tournament in the Manawatū had the entire region excited, and Badminton Manawatū are deeply disappointed to announce its cancellation. We are already working with Badminton Oceania and Badminton New Zealand to explore options for hosting this tournament in 2023, so watch this space over the coming months."
In the meantime, Badminton New Zealand encourages the entire community to support the North Harbour International, which marks the return of international badminton to our shores in October.
Badminton New Zealand in partnership with YONEX are excited to announce the launch of the Shuttle Time Gift Your Gear initiative.
Gift Your Gear seeks to improve the accessibility of badminton by redistributing pre-loved gear to young people throughout Aotearoa. Running throughout March, eighteen of our Associations have signed up to the initiative, with schools and junior clubs across the motu set to benefit.
Badminton New Zealand Community Manager, Sam Paterson notes his excitement "I'm really looking forward to seeing our community come together to grow the sport with collection points from Whangārei to the deep south. Like most players, I've hoarded plenty of extra gear over the years, so look forward to dropping these in to the Hastings collection point."
How do you participate in the Gift Your Gear initiative?
Search the dark corners of your racquet bag and wardrobe for all of your pre-loved badminton gear.
Drop it off to one of the collection points listed below.
It's that simple!
So New Zealand, it's time to Gift Your Gear and give the gift of badminton!
Collection Points
The BARFOOT & THOMPSON New Zealand Badminton League hits the heart of Auckland at the prestigious SKYCITY Theatre on Tuesday 6th and Wednesday 7th April. Auckland fans will have the chance to marvel in a unique and theatrical badminton experience, never previously delivered in New Zealand before! Entry is free for spectators and this will be a great opportunity for fans to see the best badminton talent in the country on stage over the two nights.
On Tuesday night, the top-of-the-table TIGER BROKERS Tigers take on the STARSHIP Rockets. Having tussled it out in a Golden Game in Round 1, the Rockets will no doubt be seeking to better their performances with MVP front runner, Alyssa Tagle, leading the charge. With an impressive 8 from 9 wins, Tagle has been a key member to the team's 3v3 line-up, with the Rockets yet to be defeated in a 3v3 match! Tagle's mixed partner, Dylan Soedjasa is a true rocket, thriving under pressure and armed with a booming smash – he's one to keep an eye out for in the doubles!
TIGER BROKERS Tigers will not make it easy for the Rockets, with young gun, Jack Wang asserting his dominance on the doubles and mixed court. Consistent strong performances and a Match Night MVP under his belt, Wang is no doubt a great asset to accompany Tigers' star Edward Lau as their team battles to remain on top of the league leader board.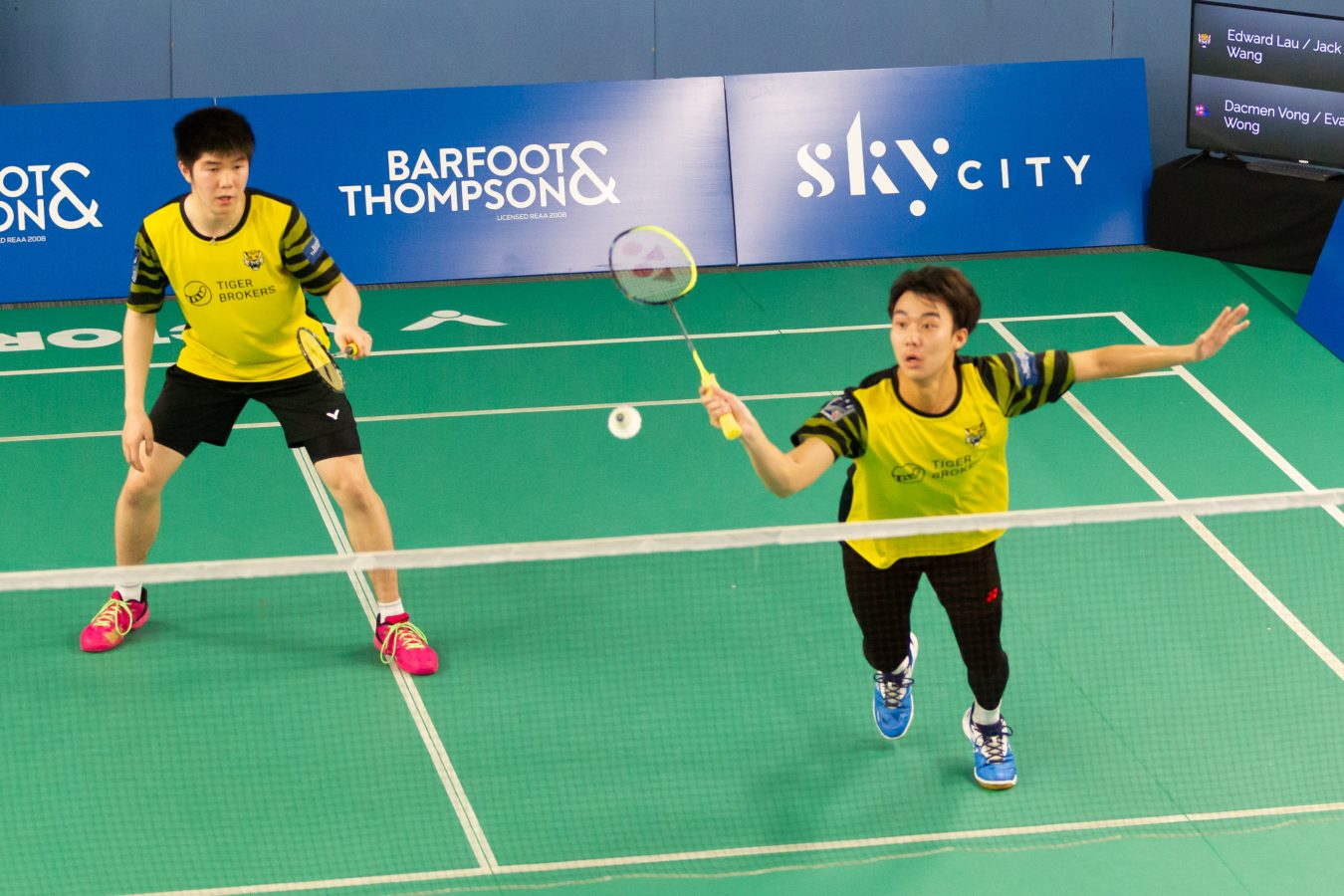 Wednesday night won't disappoint with the PLENTY BAY Whales & Mighty JAZZ Apples colliding on court. After opening the season with a stellar upset, Whales' Singles specialist Andy Rouse will be looking to cement his mark as he meets the infamous Oscar Guo. Guo will be looking to avenge his Round 1 performance, as his cracking attack and experience will make for a thrilling Men's Singles clash.
All teams have everything to play for as the league leader board tightens and the intensity will be heightened as the players adjust to competing the totally unique SKYCITY Theatre venue. The theatre is surrounded by some of the city's best restaurants, Federal Street right on the doorstep offering the perfect location for a pre-badminton meal or a post-badminton night cap.
Entry is free so be sure to grab a few friends to join a stellar few nights of badminton in the heart of Auckland. Doors open from 6:30pm, with action taking to the court from 7pm.
WHERE:
SKYCITY THEATRE, 78 Victoria Street West, Auckland CBD
Parking is available underneath the theatre, with the lifts bringing you directly to the theatre foyer. There are always available taxis in the precinct or you can choose from the many public transport options.
WHEN:
Doors open at 6:30pm – Action starts at 7:00pm