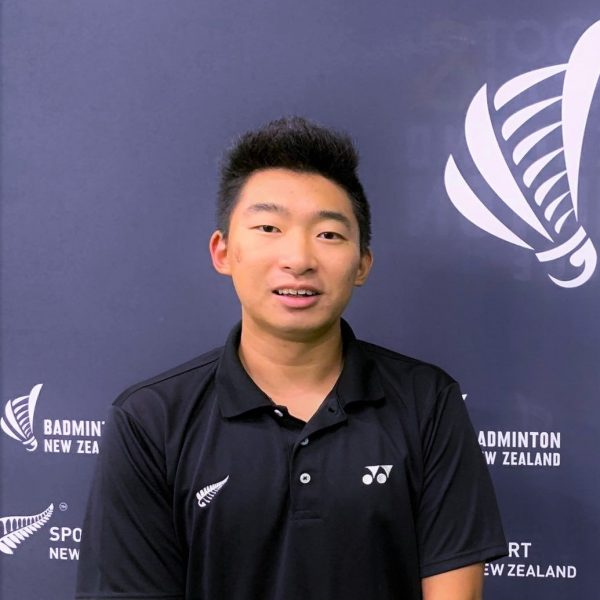 Badminton New Zealand, in conjunction with Massey University, is excited to welcome Alex Liu as our Events Intern this year. Alex is currently studying a Bachelor of Sport Management degree with aspirations to promote closer collaboration between China and New Zealand in the sporting sector.
Alex's passion for sport stems primarily from his experience on the professional road cycling circuit in China, alongside stints in swimming, figure skating and volleyball.
Alex was inspired to undertake his student placement with Badminton New Zealand following a volunteer opportunity at the 2019 Barfoot and Thompson New Zealand Badminton Open.
I was attracted to the organisation of Badminton New Zealand and their purpose of "Inspiring Kiwis to Love Badminton for Life" really resonated with me. I like their focus on improving participant experience over simply focusing on winning.
Be sure to say hi to Alex at our national events as he works alongside our team at the New Zealand National Championships, Tertiary Championships, Wisden Cup, and Under 13, Under 15 and Under 17 National Championships.
Alex will round out his 2021 placement by leading the New Zealand Under 19 National Championships in October.
The countdown is on for the highly anticipated BARFOOT & THOMPSON New Zealand Badminton League Grand Final on Saturday May 1st at the SKYCITY Theatre. A hotly contested second season has produced two exciting teams, eager and ready to take out the lion's share of the $20,000 prize money on offer.
The TIGER BROKERS Tigers were the first to book their Grand Final position, with an impressive undefeated season. Edward Lau will headline the Tigers side, bringing his proven dominance across all disciplines to the theatre court. Lau accompanies this season's breakout talent, newcomer Jack Wang, who's first season has shown his ability to match experienced players across the men's and mixed doubles disciplines.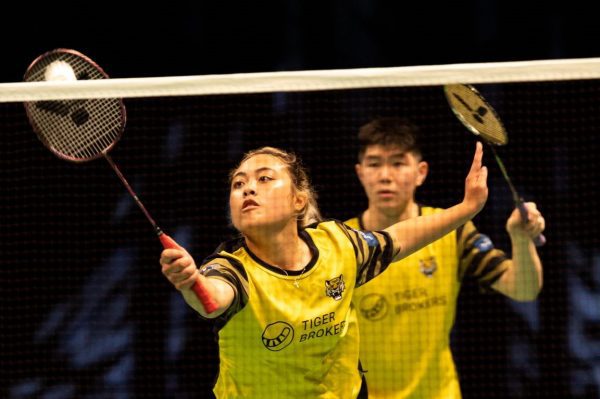 Coach Bjorn Siegemund will be flushed for choices, with all of his players putting on strong and consistent performances throughout the season.
"My team showed incredible mental strength in every match and I'm confident we will maintain our focus and spirit to put on a great performance at the Grand Final."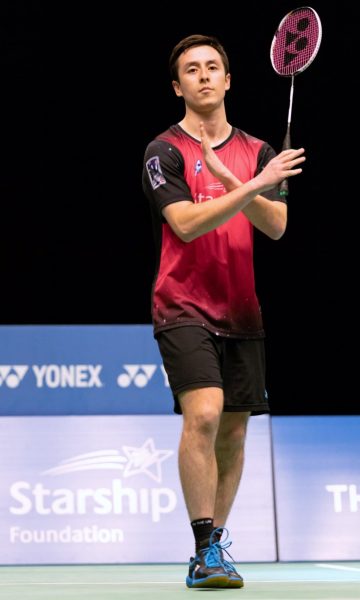 The STARSHIP Rockets, powered by their mission to support the Starship Foundation, booked the remaining Grand Final position with their Round 5 victory over the Mighty JAZZ™ Apples. Rockets Alyssa Tagle and Catelyn Rozario have grown from strength to strength throughout the season, asserting their mark on the competition within their respective disciplines. Tagle boasts a stellar record in both the 3v3 and mixed doubles, as the Rockets head into the Grand Final. It's likely she'll join Dylan Soedjasa to round out the tie, as the pair have shown that they thrive under the spotlight – a truly perfect combination for a nail-biting Grand Final on centre court at the SKYCITY Theatre.
Rockets coach, Fanny Megahwati, backs her team ahead of the Grand Final.
"We lost a close Golden Game to the Tigers previously, so I know we are very evenly matched. I believe if the Grand Final goes to a Golden Game again, our team will be ready to perform."
Catch an unmissable Grand Final between STARSHIP Rockets and TIGER BROKERS Tigers on centre stage, Saturday 1st May at the SKYCITY Theatre.
Tickets are now available for the Grand Final and an awesome afternoon of badminton action in the heart of Auckland.
Grand Final
Saturday 1st May
SKYCITY Theatre
Foyer activations from 2pm
Doors open 2:30pm
Matches from 3pm
Badminton New Zealand has joined NZ Cricket, NZ Football, Hockey NZ, Netball NZ and NZ Rugby NZ in backing the Balance is Better Statement of Intent first announced in September 2019.
Badminton New Zealand will join the collective and individual action underway to keep young people in sport by putting a stronger focus on fun and development, reviewing existing competition structures and encouraging youth to play multiple sports rather than specialising too early.
In addition, Athletics NZ, Basketball NZ, Golf NZ, Gymnastics NZ, NZ Rugby League, Softball NZ, Touch NZ, Volleyball NZ and Waka Ama NZ have also joined the collective today.
Badminton New Zealand Chief Executive Joe Hitchcock is excited to be a part of the new initiative.
Our team embraces the focus on fun and development across all areas of our sport. We look forward to working with our communities to improve the sporting experience for all tamariki and rangatahi across New Zealand.
Sport NZ Chief Executive Raelene Castle says it is great to see these sports formally commit to these important changes.
"We need to change what is offered and how we engage with young people. There needs to be quality opportunities for all participants, not just the best players.
"Sport is a huge part of our society and important for the wellbeing of so many New Zealanders, however the way sport is delivered has not kept up with what young people are looking for. We know that because they're telling us and many are also walking away.
"The original five sports have done some excellent work and we now have ten more making this important commitment. This is another encouraging day for youth sport in New Zealand," says Raelene Castle.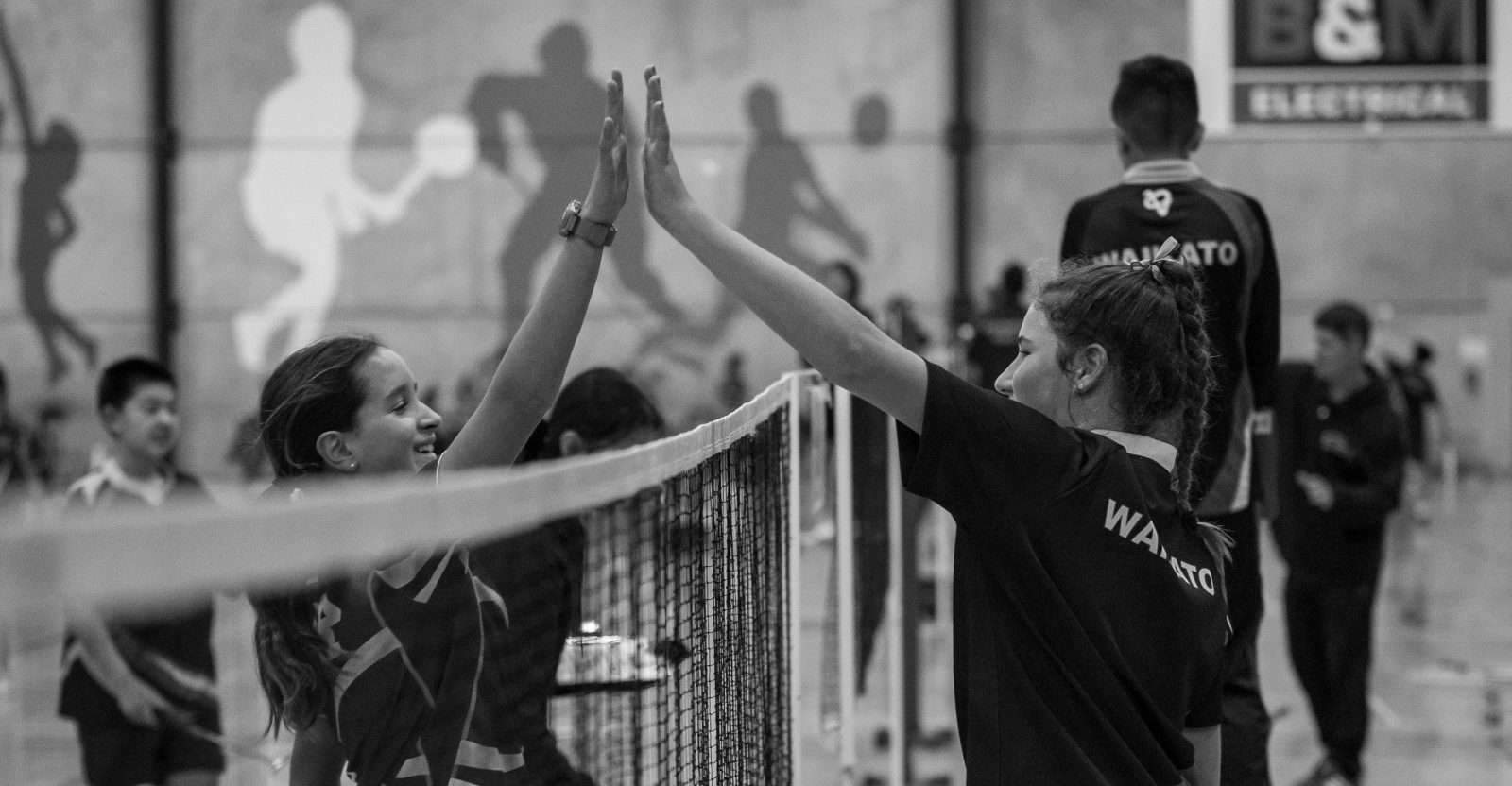 The commitments outlined in the Statement of Intent are:
Ensuring all young people receive a quality experience, irrespective of the level at which they compete.
Leading attitudinal and behavioural change among the sport leaders, coaches, administrators, parents and caregivers involved in youth sport.
Providing leadership to support of changes to competition structures and player development opportunities.
Working with within their sports and schools to keep minds open while identifying talent throughout the teen years, including reviewing the role and nature of national and regional representative tournaments to ensure that skill development opportunities are offered to more young people.
Supporting young people to play multiple sports.
Raising awareness of the risks of overtraining and overloading.
To join the collective stand, Badminton New Zealand has made a commitment at the executive and board level, and put resources behind making changes to we deliver youth sport.
"This is an important step, but it is not their first. Badminton New Zealand has been on a journey to get to this point, as have many other national sporting bodies," says Raelene Castle.
"There is real momentum behind these changes – a widespread recognition that we need to work hard and work differently to create quality and fun experiences that will keep kids in sport. This is great for participants, future talent and for our sector."
The thrilling and innovative New Zealand Badminton League is back – with bigger and better action on court in February 2021. The signing of new Principal Sponsor, Barfoot & Thompson, combined with new players, new teams, and new playing venues will have fans eagerly awaiting the first round. With a rapid-fire match format, the excitement of 'golden games' and an increased $20,000 NZD prize pool up for grabs, the Barfoot & Thompson NZBL will have sport fans on the edge of their seats.
"The NZBL was an absolute highlight in 2020 and showed the huge potential badminton has as a professional sport that delivers exciting entertainment for fans in New Zealand and around the world" says Badminton New Zealand Chief Executive Joe Hitchcock.
"Tens of thousands of Kiwis loved watching the first season of the NZBL and we know fans are eager to see the best badminton players in New Zealand back on court."
Barfoot & Thompson has been a long-time supporter of the New Zealand Badminton Open, and are also on board for the upcoming BWF World Junior Championships in 2024 and BWF World Senior Championships in 2025.
Managing Director of Barfoot & Thompson, Peter Thompson, described it as a natural decision to add the NZBL to their sponsorship of major badminton events in New Zealand.
"We are very excited about the opportunities this partnership creates for us, for the greater Northland and Auckland region, and for one of New Zealand's fastest growing sports.
"We have been a proud sponsor of Badminton New Zealand for more than five years and have witnessed the joy that the sport brings to athletes and spectators alike. We look forward to welcoming everyone to enjoy this innovative brand of badminton from New Zealand's best players and to showcase our incredible city."
New for 2021, the NZBL will be play its opening round and Grand Final at the fabulous SKYCITY Theatre, adding yet another dimension to the entertainment opportunities provided to fans.
Twenty-four of New Zealand's best badminton players have been selected to compete in the NZBL and there is a diverse mix of established players and exciting new talent. Abhinav Manota will be highest ranked player to take the court, but he will be joined by many others currently sitting inside the world's best 100 players. The NZBL plays an important role for players who cannot currently compete overseas in BWF sanctioned events.
Tokyo Olympic hopeful and three-time Commonwealth Games athlete Oliver Leydon-Davis is eager to compete in the NZBL.
"I'm looking forward to playing the second edition of the NZBL. It's an exciting and different way to play, with the new format bringing the excitement to the fans as well."
It is a sentiment echoed by fellow Badminton New Zealand National Squad member Anona Pak.
"The first season of the NZBL was really fun. It was interesting watching the players grow and develop as the league progressed and we are all determined to do better and to take what we learnt from the first season into the second season. I feel the intensity is going to be there from the first serve."
The 2021 season of the Barfoot & Thompson NZBL launches on 16th February 2021, bringing action-packed badminton to screens around the country every Tuesday and Wednesday night. Teams will battle through six rounds that will culminate in the Barfoot & Thompson NZBL Grand Final on Saturday 1st May 2021 at the SKYCITY Theatre.
Organisers of the BARFOOT & THOMPSON BWF World Junior Championships 2020 have today confirmed that the event has been cancelled.
The ongoing COVID-19 restrictions and uncertainty left BWF, Badminton New Zealand and tournament organisers no choice but to cancel the event.
BWF Secretary General Thomas Lund said: "We are of course disappointed not to be able to stage the 2020 version of the BWF World Junior Championships, but the entry restrictions in place and complexities related to the COVID-19 situation makes it impossible for the event to be planned and therefore hosted in New Zealand in January 2021 as currently scheduled."
With a host for the next edition already in place for later in 2021, and the uncertainty of the COVID-19 situation expected to stretch into next year, postponement was not an option.
However, Badminton New Zealand are still committed to hosting the BWF World Junior Championships and the BWF have accepted a proposal for them to stage the 2024 edition as a replacement for the edition lost.
Hosts for the 2021, 2022 and 2023 championships were already awarded by BWF Council in 2018, making 2024 the next available year.
"We would like to thank Badminton New Zealand, tournament organisers, its partners ATEED and the New Zealand Government, for their enthusiasm and commitment to staging the World Junior Championships," added Lund.
"It only seems fair recognition of their efforts to stage these championships that we award them the 2024 edition.
"We appreciate that some junior players will turn 19 years old in 2021 and unfortunately miss out on a BWF World Junior Championships experience. We can only encourage them to continue to develop their talent as badminton athletes and start to enter open international events.
"It has been a difficult and extraordinary year during the pandemic but we all look forward to a more consistent junior international badminton calendar in 2021 and the next BWF World Junior Championships in China in October 2021."
Badminton New Zealand Chief Executive Joe Hitchcock said: "Although we are tremendously disappointed with this news, it is the right decision to make due to the current situation. We know that the world was looking forward to visiting New Zealand and enjoying a truly inspiring event with the best young badminton players on the planet and we feel for all those impacted by this cancellation.
"We are, however, thrilled that fans and players from around the world will still be able to enjoy a uniquely Kiwi badminton experience, albeit a few years later than originally planned. We are particularly grateful to the BWF, Barfoot & Thompson and our event partners, who have been
incredibly supportive and accommodating to ensure that we could get across the line to host the 2024 event," Hitchcock said.
ATEED Head of Major Events, Richard Clarke, said: "Whilst the news is understandably disappointing for the badminton community and Auckland as a host, we are delighted to hear that the event will not be lost to our region.
"The decision by the international governing body to award the 2024 event to New Zealand speaks volumes for our reputation as a world-class events destination and we cannot wait to extend our manaakitanga (hospitality)," Clarke added.
The new date sets up an exciting period of international badminton events in Auckland, New Zealand, with the BARFOOT & THOMPSON BWF World Junior Championships secured for 2024 to be followed by the BARFOOT & THOMPSON BWF World Senior Championships in 2025.
ENDS
Contact:
pressoffice@bwfbadminton.org
Lloyd Green
Communications & Media Manager
Mobile: +60 19-384 0556
Dianne Pierre
Deputy Communications & Media Manager
Mobile: +44 7961 714540
An incredible, action-packed eight days of badminton across venues in North Harbour & Waikato saw over 200 players take to court in the various 2020 New Zealand National Age Group Championships.
Under 17 National Championships
The first event, NZ U17 National Championships, saw players make their mark, forcing early exits from a handful of top seeds. North Harbour's Chris Benzie and Ashley Tan were primed to claim a hattrick of titles, both featuring in three finals.
Benzie opened his campaign, taking out the Boys' Singles over Auckland's Daniel Hu in a nail-biting three games; 23-21 18-21 21-14. Benzie continued to claim finals glory, teaming up with Dylan Naera to claim the Boys' Doubles against Hu & Ethan Chuang. Meanwhile, Tan was comfortable in the Girls' Singles final over Auckland's Smile Li, 21-17, 21-15. Tan returned to court in the Girls' Doubles with teammate Anna Ryu to clutch a second title 22-20, 12-21, 21-18 over Angelina Ung & Camellia Zhou.
With two titles under their belt, Benzie & Tan were partnered and poised to claim the Mixed Doubles until, Naera & Zhou halted their run. Despite having match point opportunities, Tan & Benzie were unable to close out the second game, handing Naera/Zhou the momentum and eventually the match and title; 17-21, 26-24, 21-18.
Waitakere's Hugo Chou was awarded the NZ U17 Umpire Award for his outstanding efforts in the umpiring chair.
Under 13 National Championships
The NZ U13 National Championships ran in conjunction with the U17s, at sister venue Active Badminton Centre. It was North Harbour's Tony Yu who proved his dominance in the U13 age group, without dropping a game ahead of finals day. Paired with Mads Siegemund, the pair claimed a hotly contested Boys Doubles title over Von Lee Ooi and Oscar Wu. Yu continued his charge on Ooi, claiming the Boys Singles' title in a 3-game thriller 14-21, 21-11, 21-16. Inspired on his winning streak, Yu concluded the day with Shuyu Lu for a comfortable 21-11, 21-10 Mixed Doubles victory.
Both Lu and Josephine Zhao had standout performances in the girl's events with the pair claiming the Girls Doubles title over fellow Harbour players; Yanxi Liu & Natalie Ting. Zhao also took the Girls' Singles title, following an hour-long contest over top-seeded Rosie Yang.
Despite a host of fantastic umpiring within the age group, Auckland's Oscar Wu was awarded the NZ U13 Umpire Award at this year's event.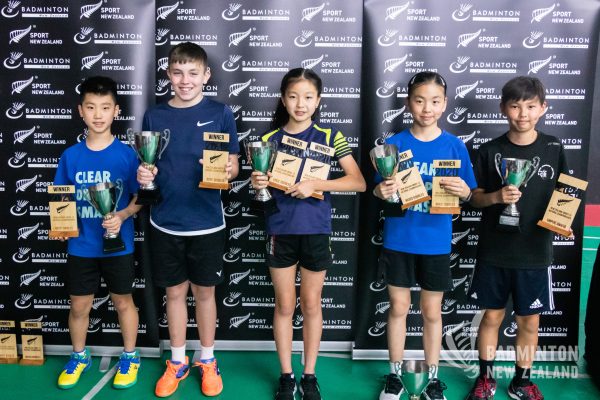 Under 15 National Championships
Following the U13 and U17 National Championships, the junior contingent migrated to the Waikato region to contest the NZ U15 and U19 National Championships.
The New Zealand Under 15 National Championships promised a bounty of matches and excitement, with the largest entries of all age group national championships in 2020.
After a tough semi final loss in the Boys' Singles, Raphael Deloy teamed up with Nanna Siegemund to beat Jaden Lei Mingoa/Katarina Ung 21-7 21-10 to claim the Mixed Doubles title.
It was an all-North Harbour affair in the singles finals as an impressive Lillian Cao took the court to defeat Amanda Ting in three games, 17-21 21-19 21-8.
Ethan Chuang however provided too dominant in the Boys Singles, as he beat North Harbour teammate Mingoa 21-15 21-9 before then pairing up with Mingoa to win the Boys Doubles beating Joseph Wu and Owen Wu 21-18 21-18. The impressive skills on court concluded with the closest match of the Finals taking place between Lillian Cao and Amanda Ting in the Girls' Doubles, finding a win over Nishika Jain and Katarina Ung, 21-16 17-21 21-18.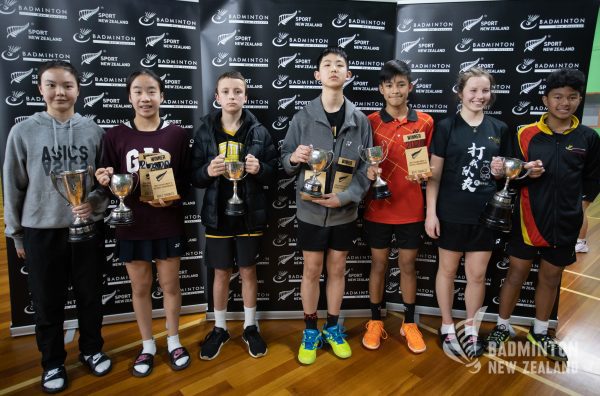 Under 19 National Championships
Alongside the U15 finals, the New Zealand Under 19 National Championship finals were streamed live to SKY Sport Next, with thousands jumping online to watch.
In the opening final, NZ U17 finalists Chris Benzie and Ashley Tan struggled to keep up with the established pair of Jack Wang and Roanne Apalisok. Improving on 2019's result as finalists, Wang and Apalisok proved one better to claim the NZ U19 Mixed Doubles title.
Hot favourite, Shaunna Li took the court and continued her dominant year, adding the New Zealand U19 Women's Singles title to collection, defeating a spirited Jenny Zhu, 21-11 21-11.
Men's Singles was next on the slate, with North Harbour's Ricky Cheng and Auckland's Clive Luna providing thrilling entertainment. In a back and forth battle, Cheng had the edge to close out the match 19-21 21-15 21-13.
In an emotional replay of the 2019 NZ U19 Women's Doubles Final, Apalisok and Janice Jiang were able to outclass Li & Tan 21-16 12-21 21-17 to take the three peat in back to back titles. Jiang summed it up well in her post match interview, "this is my last year as an Under 19 and we've won three years in a row, so it's a really cool feeling".
Finals day concluded with both Luna and Wang combining to dispatch unseeded pair Aaron Chen and Steven Lin 21-9 21-11 in relatively quick fashion. It made it two titles for Wang in his last junior event, while Luna was pleased to take home a title after coming close earlier in the day "it feels much better, it feels great to win".
The event rounded out with Alex Galt and Hugo Chou awarded the Umpire Award for their respective U15 and U19 Championships, a fitting recognition for their efforts in the umpire chair.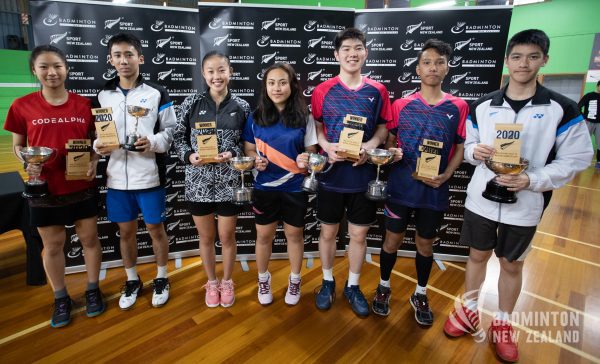 Check out some of the highlights below