Badminton New Zealand regrets to announce that the upcoming National Under 15s, Under 19s and Masters Championships have been cancelled, due to the ongoing restrictions across the country.
These events all required that the whole country was in Alert Level 2 or lower, with domestic travel and large indoor gatherings permitted. As previously advised, Badminton New Zealand set dates for each event by which this criteria must be met in order to proceed, in order to strike a balance between giving as much notice as possible for participants, while also allowing the best chance for these events to go ahead.
Unfortunately, the discovery of new cases in the Waikato region over the weekend, and the extension of Level 3 restrictions in Auckland, means that this criteria will not be met by the decision date for each event, and therefore we are forced to cancel each event.
We understand that this will be disappointing news for the hundreds of players who have been training hard in their bubbles and were looking forward to competing in October, and equally we are disappointed that we cannot run these events.
If you had entered to play in any of these events, please check your email for further information, or contact the event director as below:
Sanctioned Events
Unfortunately, the latest extension of restrictions also impacts several sanctioned events that were postponed into October. The following events are also cancelled:
Please contact the event organiser if you require any further information on these sanctioned events.
Experienced Leader Stephen Nelson has been named as the incoming Chief Executive at Badminton New Zealand, taking over from departing Chief Executive Joe Hitchcock.
Badminton New Zealand Board Chair, John Moody, says Nelson's passion, experience and knowledge are a great fit to continue the organisation's strong growth and innovation to inspire more kiwis to love badminton for life.
"The appointment of Stephen is a great result. His experience as a leader, strategic thinker and communicator, combined with his knowledge of community badminton, means he is ideally suited to take on this complex role.
"He joins Badminton New Zealand at a very exciting time. The organisation has just been named as part of the next wave of Sport New Zealand's Strengthen and Adapt programme; we are looking forward to hosting the World Junior and Senior Badminton Championships in 2024 and 2025; and the badminton community are continuing to come together to build more and more quality experiences for everyone in badminton here.
"The Board felt Stephen understands the opportunities and the challenges for the sport, and he shares the desire to see the game thrive at all levels," says Moody.
Nelson brings strong leadership, management, and governance experience. He was the Chief Executive of a company that operated three Mitre 10 MEGA home improvement stores in Wellington with more than 300 staff and around $100 million in revenue. Most recently Nelson has led a mid-sized commercial construction company and doubled its revenue through strategic planning combined with business and financial acumen. Well known in the badminton community, Nelson is an active masters player and has previously served as the Badminton Wellington Board Chair as well as a Badminton New Zealand Board Member and Co-Chair.
Nelson says he is thrilled to be offered the opportunity and is eager to continue on from the success that Hitchcock has established.
I am delighted to be able to contribute further to the badminton community in New Zealand. I love the sport and am excited to pick up and carry on with the great work that Joe, the Badminton New Zealand team and the wider badminton community have already completed.
With current Chief Executive Joe Hitchcock departing on 29 October, General Manager Donna Trow will act as interim Chief Executive until Nelson starts the role on 31 January 2022.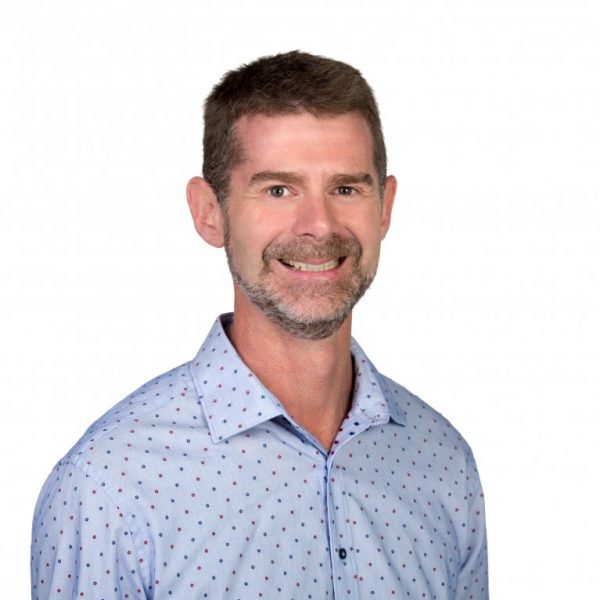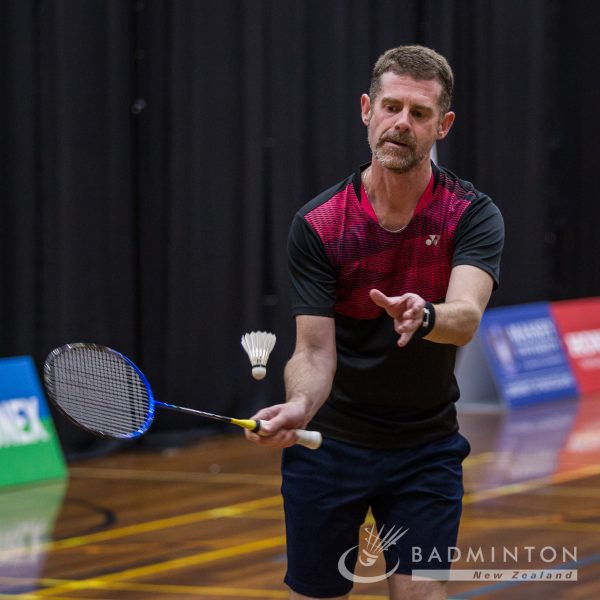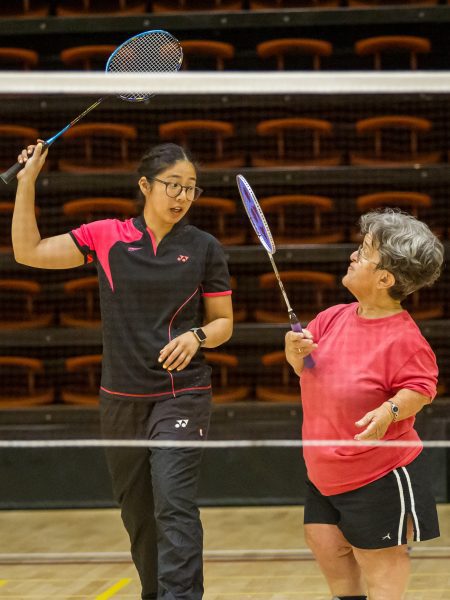 Badminton New Zealand's recent internal restructure saw the creation of a new Diversity and Inclusion Manager role. The position takes responsibility for the organisation's focus on para badminton, diverse communities and Asian engagement, girls and gender equity initiatives. 
Michelle Au transitions into the Diversity and Inclusion Manager role with her strong experience in para badminton, gender equity and digital campaigns. Michelle has been actively involved in the growth of para badminton in the Australia and New Zealand region over the last five years, at both a community, national and international level.
Alongside the para badminton development, Au has led numerous digital campaigns for events including the Barfoot & Thompson New Zealand Badminton League and New Zealand Open. Michelle's recent appointment as chair of the Badminton Oceania Gender Equity committee shows this new role to be a good fit for her.
"I love how my role has transformed throughout my time at Badminton New Zealand, and with the support of our team and the wider badminton community, this is a step in an exciting direction," says Au.
General Manager, Donna Trow will work closely with Au to deliver on many of these initiatives.
"It's great to see Badminton New Zealand be in the position to create a role like this and follow in the footsteps of Sport New Zealand. We look forward to strengthening the current partnerships, and creating new connections as we learn and grow this area."
Michelle Au commenced her new role as Diversity & Inclusion Manager on September 1st. She is contactable via michelle@badminton.org.nz
Badminton New Zealand is excited to announce changes to our staff and structure that will better position the organisation for continued success. Following the new strategic plan, the changing landscape due to the COVID-19 pandemic and the resignation of Chief Executive Joe Hitchcock, these changes will help future proof the organisation.
We also have factored in the resignation of Community Manager Brent Miller who is heading overseas in early 2022. Badminton New Zealand would like to take this opportunity to extend our sincere thanks to Brent who has done an amazing job in his role over the last three years, and through his involvement in our performance coaching space over the last six years. Brent will leave huge shoes to fill as he has done so much not only for Badminton New Zealand, but for the Associations he has worked closely with and the wider badminton community and players across New Zealand.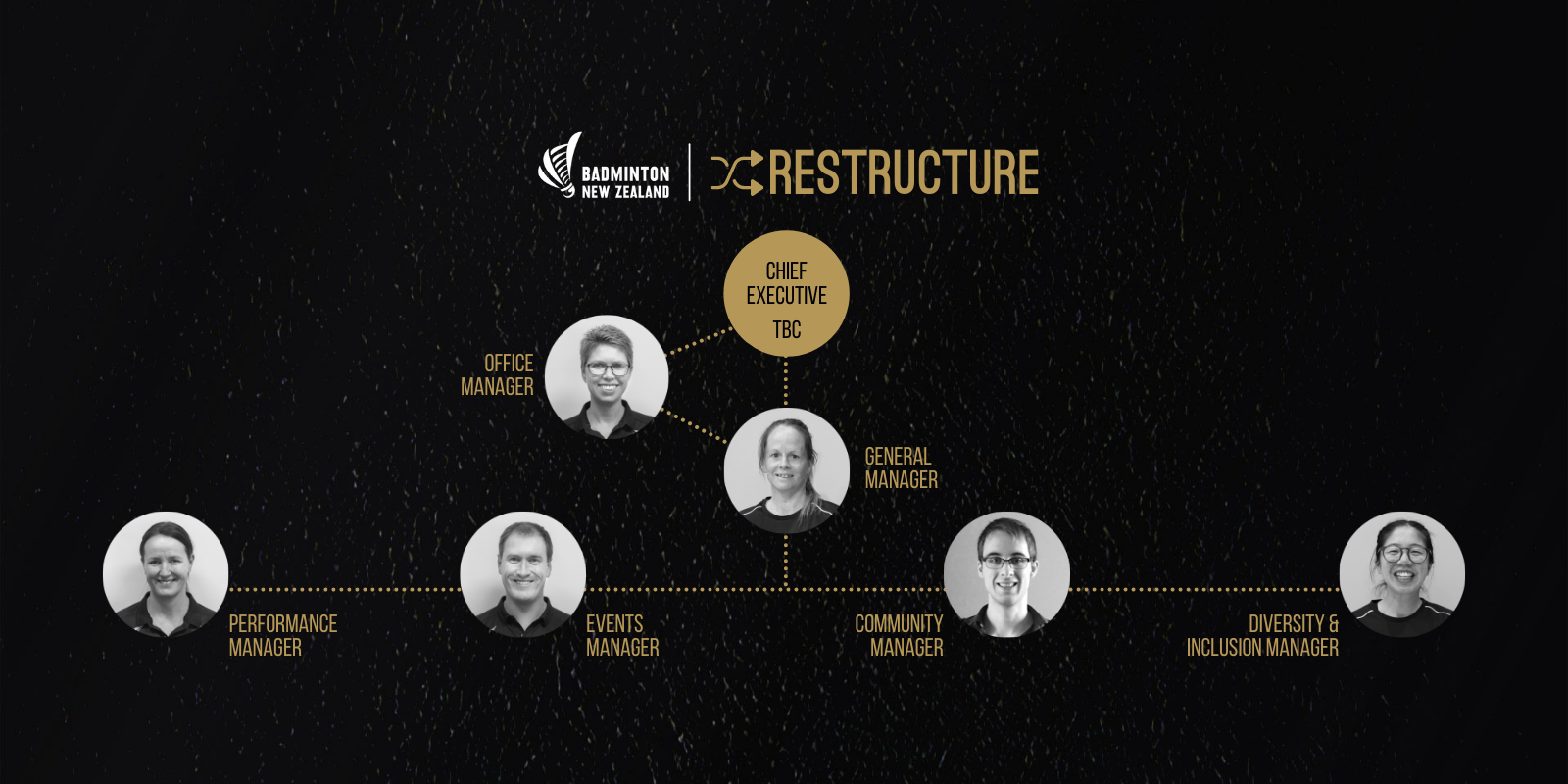 Key to the change in Badminton New Zealand's structure is the newly created General Manager role that will oversee the operational planning, monitoring and reporting functions of the organisation's deliverables with key stakeholders. It will ensure high-quality delivery is maintained and that the organisation is better aligned to achieve outcomes for the community. It will also provide a better opportunity for the new Chief Executive to focus on Badminton New Zealand's strategy, external opportunities and continuing the growth of impact of the organisation. Donna Trow will step into the General Manager role from the 1st October 2021 and Badminton New Zealand is delighted that she will extend her leadership and management skills into this important new role.
Badminton New Zealand are currently scoping the development components that need to be covered and this will likely form a new position or contract with a focus on the coaching space.
Current Events Manager Sam Paterson will move into the Community Manager's role from the 1st January 2022 and this will be a great opportunity for Sam to utilize his strong connections with Associations and grow his skill set in organisation and workforce capability and capacity building. Jonathon Stone will then lead the Events Team and manage newly appointed staff and contractors linked to delivering our national events and competitions.
Badminton New Zealand have already announced that Michelle Au has shifted into the new Diversity and Inclusion Manager's role where she will lead an extension of our work in the para badminton, gender equity, Asian engagement and general diversity and inclusion space.
There will be consistency with Performance Manager / National Coach Rikke Olsen Siegemund and Office Manager Colleen Van de Laar staying in their positions with minimal change to their roles. The newly appointed Chief Executive will then join the organisation following the recruitment process which is in progress now. Badminton New Zealand will provide further information regarding these changes the organisational structure, and the new roles and responsibilities of all the team over the next few months.
New Zealand's highly anticipated inaugural para badminton event, the SKY SPORT Para Invitational Cup, due to take place in Christchurch in mid-September, has been postponed.
The event organisers made the decision to postpone the event in light of the current COVID-19 situation in the eastern states, and the New Zealand Government's suspension of the trans-Tasman travel bubble.
"We really believe this event will be a quality experience on the calendar for both Australian and New Zealand athletes," says Event Director Michelle Au.
To ensure a healthy competition, we wanted as many athletes as possible to be able take up this opportunity. With the trans-Tasman travel bubble currently closed, we felt it was in the best interests of our players and the event to postpone. We are very grateful to our stakeholders and sponsors for supporting this change of date.
The SKY SPORT Para Invitational Cup, which was developed in partnership with Paralympics New Zealand, Badminton Canterbury and SKY Sport, will remain in Christchurch and take place on the new dates of 25th to 28th November 2021. The event will provide quality competition to both Kiwi and Australian para-athletes, along with offering national classification and a finals-day live stream.
Badminton New Zealand looks forward to welcoming para-athletes and spectators from around New Zealand and Australia in November.
For more information, contact:
Michelle Au
Badminton New Zealand
michelle@badminton.org.nz
021 191 1625
Following more than eight years leading Badminton New Zealand, Chief Executive Joe Hitchcock will be stepping down in October 2021. During his time as CEO, Badminton New Zealand has grown and transformed into an award winning national sports organisation.
Hitchcock has built strong partnerships across funders, government agencies and sponsors to triple the organisations revenue, providing a platform to support the rapid growth in key programmes such as Shuttle Time, coach education, regional capability building, national and international events and performance pathways. Badminton New Zealand is highly regarded from the grassroots communities of its 25 member associations through to its international body – the Badminton World Federation.
Stand out highlights for Badminton New Zealand during this time include securing more than $2.8 million in investment to successfully bid for the BWF World Junior and BWF World Senior Championship events, launching the innovative Barfoot & Thompson New Zealand Badminton League played live in the SKYCITY Theatre, achieving sell-out crowds and a broadcast to more than 100 million households at the New Zealand Open, and growing government investment into badminton by 226%.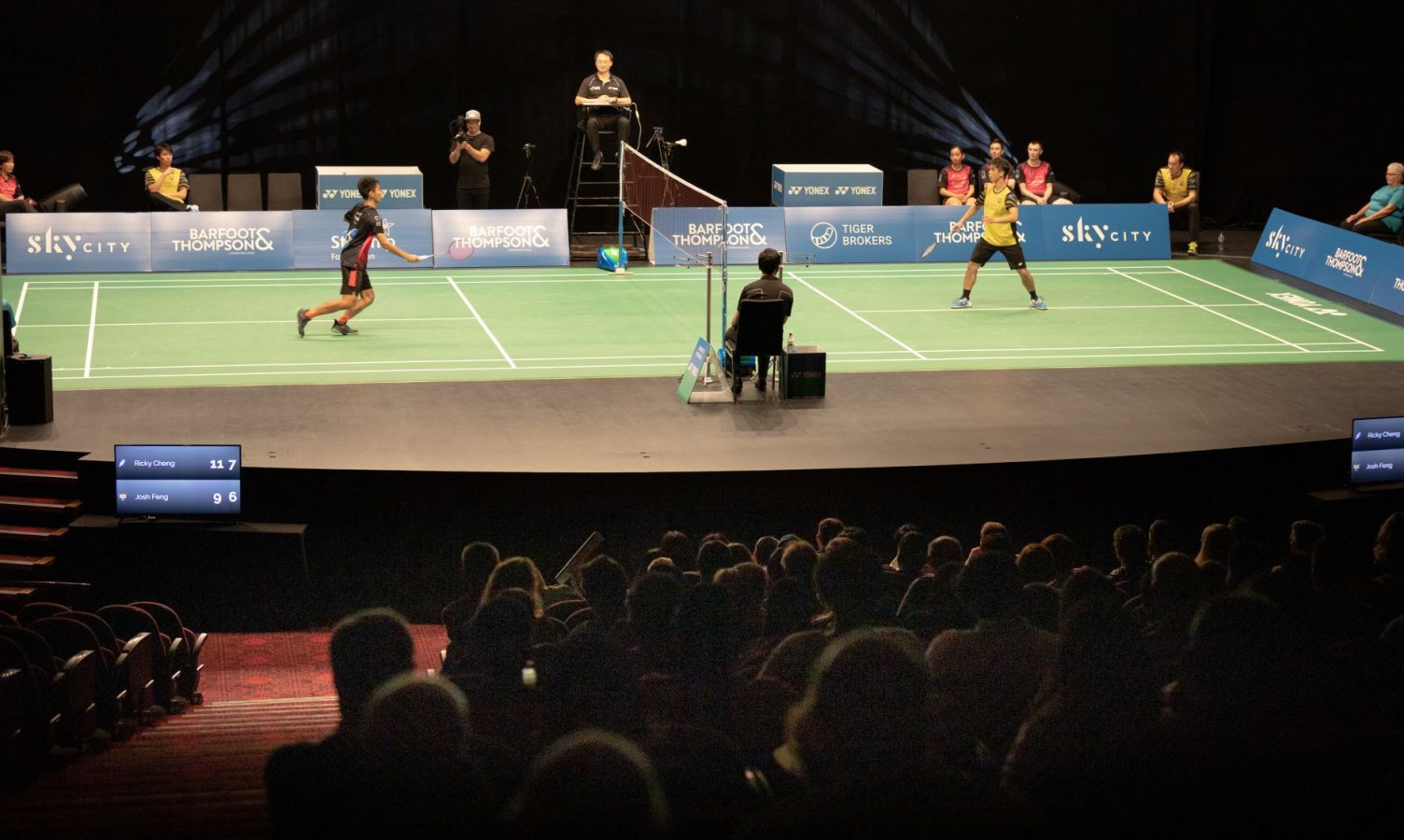 New Zealand also won all six junior titles at an Oceania Badminton Championships for the first time in history and Badminton New Zealand, in conjunction with Barfoot & Thompson, won the Commercial Partnership of the Year Award at the recent New Zealand Sport and Recreation Awards. During his time at Badminton New Zealand, Hitchcock was also the inaugural winner of the Future Leader Award and Scholarship and completed a Masters of Sport Management with Distinction through Massey University.
Key to this success has been the operational and governance teams that have supported Hitchcock within the organisation.
"It has been fantastic to be part of Badminton New Zealand for nearly nine years and to see how a special group of people can come together to achieve great things. Looking back at the success we have had, it comes down to the team of passionate people that put badminton first and work incredibly hard.
"As with any organisation, there have been challenges throughout my time at Badminton New Zealand and it's only with the support of the staff, board and stakeholders that we've always been able to bounce back stronger," says Hitchcock.
"I would especially like to thank the team at Badminton New Zealand - Brent, Colleen, Donna, Jonathon, Michelle, Sam and Rikke who go above and beyond for the organisation and have made every day enjoyable. They are all leaders in their own right and I'm looking forward to following their careers as they continue to achieve and succeed. I would also like to thank the Board of Badminton New Zealand, the Chairs that I have been fortunate to learn from and work with, and especially our current Badminton New Zealand President Ian Willans and Badminton New Zealand Board Member and BWF Council Member Nigel Skelt. Both Ian and Nigel have been a foundation of support with their time and experience through the ups and downs of leading the organisation."
Hitchcock is confident that Badminton New Zealand is in a strong position moving forward, with growing participation matching the increasingly diverse populations of New Zealand. "The organisation is well positioned across all areas to continue to inspire kiwis to love badminton for life".
Hitchcock's final day at Badminton New Zealand will be Friday 29th October 2021 and the Board will soon commence the recruitment process.