Performance
Performance Pathway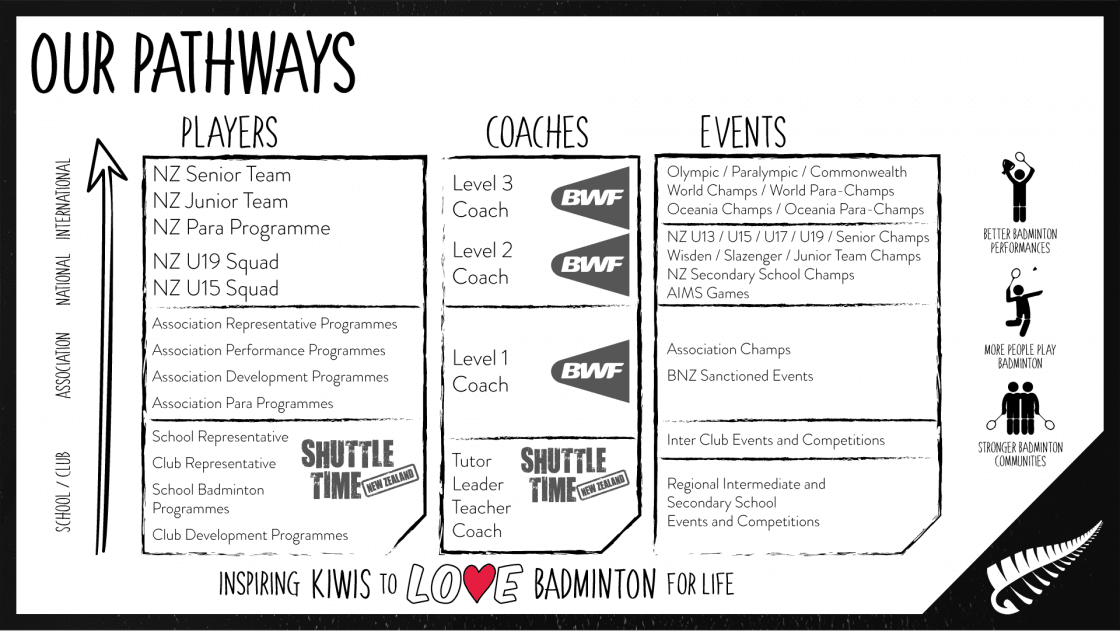 Anti Doping
Badminton New Zealand is committed to the advancement of clean sport that rejects cheating through the use of performance enhancing drugs and methods.
Badminton New Zealand is in partnership with Drug Free Sport New Zealand (DFSNZ) to:
Promote a culture of clean sport
Deliver anti doping education|
Organise and implement testing programmes
Report doping and suspicious activity
Support athletes to compete drug free
For full information about anti doping, visit http://www.drugfreesport.org.nz/
The Prohibited List
The Prohibited List is published by the World Anti-Doping Agency (WADA) every year and details all substances and methods which are prohibited or banned in sport. A substance or method may be included on the list if it meets any two of the following criteria:
It has the potential to enhance sporting performance
It presents an actual or potential health risk to the athlete
It violates the spirit of sport
DFSNZ promotes the updated Prohibited List to New Zealand national sports organisations and athletes each year.
Summary of Major Modifications and Explanatory Notes
The Anti-Doping Rules
All members of Badminton New Zealand are required to abide by New Zealand's Sports Anti Doping Rules. These rules reflect the World Anti-Doping Agency's (WADA) World Anti-Doping Code.
In summary, the ten rule violations are:
The presence of a prohibited substance or its metabolites or markers in an athlete's sample
The use or attempted use by an athlete of a prohibited substance or method
Evading testing or refusing to provide a sample for drug testing
Failing to provide accurate and up-to-date whereabouts information or missing a test
Tampering or attempting to tamper with any part of the doping control process
Possessing prohibited substances or methods
Trafficking or attempting to traffic any prohibited substance or method
Administering or attempting to administer a prohibited substance or method to an athlete
Covering up an anti-doping rule violation
An athlete associating with someone, such as a coach or medical professional, who has been found guilty of an anti-doping rule violation or equivalent
Medications
Many medications contain substances which are prohibited in sport. Any athlete who is sick or injured needs to carefully consider the medications they take to ensure they avoid prohibited substances.
To check whether a medication is permitted in sport, please visit the Medication Check page on the DFSNZ website or request a copy of DFSNZ's wallet guide on the status of common medications.
Athletes can apply for a Therapeutic Use Exemption (TUE) if they need to take medication which is prohibited in sport. If athletes compete at a top level, they may need to apply for a TUE before they take medication which contains a prohibited substance. Visit the TUE page on the DFSNZ website for more information.
Supplements
Many dietary or sports supplements are marketed as helping to improve performance, recovery, weight loss or muscle development, and, supplements can contain substances which are prohibited in sport and may not accurately label ingredients. Athletes should carefully assess their need for supplements and carefully research the supplements they choose to take.
The Athlete Whereabouts Programme
Anti doping organisations, including DFSNZ, conduct drug tests on athletes out-of-competition with no advanced warning. The Athlete Whereabouts Programme allows DFSNZ to locate athletes for testing.
Testing
Drug testing is one of the best ways to identify athletes who are doping and to protect athletes who are clean competitors. Athletes can be tested during an event (in-competition) or at any other time (out-of-competition) and will be asked to provide a urine sample, a blood sample or both. The testing process and sample collection for doping control will be carried out by a trained and accredited DFSNZ official.
I Need Help
Please visit the DFSNZ website
Your point of contact for anti doping matters is:
Anti Match Fixing
Badminton New Zealand recognises that betting is a legitimate pursuit, however illegal or fraudulent betting is not. Fraudulent betting on sport and the associated match-fixing is an emerging and critical issue globally, for sport, the betting industry and governments alike.
Accordingly, Badminton New Zealand and its Member Organisations have a major obligation to address the threat of Match-Fixing and the corruption that flows from that.
Badminton New Zealand and its Member Organisations have a zero tolerance for illegal gambling and Match-Fixing.
Badminton New Zealand has developed a National Policy on Match-Fixing to:
Protect and maintain the integrity of Badminton New Zealand
Protect against any efforts to impact improperly the result of any match.
Establish a uniform rule and consistent scheme of enforcement and penalties.
Adhere to the National Framework on Match-Fixing in Sport and Sport Integrity as published by Sport New Zealand.
A copy of the National Policy can be obtained from Badminton New Zealand upon request - office@badminton.org.nz
Badminton New Zealand will engage necessary technical expertise to administer, monitor and enforce this Policy.
The National Policy, as amended from time to time, includes a defined list of Relevant Persons to whom this Code of Conduct applies.
This Code of Conduct sets out the guiding principles for all Relevant Persons on the issues surrounding the integrity of sport and betting.
Guiding Principles
Be Smart: know the rules
Be Safe: never bet on your sport
Be Careful: never share sensitive information
Be Clean: never fix an event
Be Open: tell someone if you are approached
Be Smart: Know the Rules
Find out Badminton New Zealand's betting integrity rules of Badminton New Zealand (set out in Badminton New Zealand's National Policy), so that you are aware of Badminton New Zealand's most recent position regarding betting.
If you break the rules, you will be caught and risk severe punishments including a potential lifetime ban from badminton and even being subject to a criminal investigation and prosecution.
Be Safe: Never Bet on Your Sport
Never bet on yourself, your opponent or your sport. If you, or anyone in your entourage (coach, manager, friend, family members etc), bet on yourself, your opponent or your sport you risk being severely sanctioned. It is best to play safe and never bet on any events within your sport including:
never betting or gambling on your own matches or any competitions in your sport; including betting on yourself or your team to win or lose as well as any of the different spot bets;
never instructing, encouraging or facilitating any other party to bet on sports you are participating in;
never ensuring the occurrence of a particular incident, which is the subject of a bet and for which you expect to receive or have received any reward; and
never giving or receiving any gift, payment or other benefit in circumstances that might reasonably be expected to bring you or your sport into disrepute.
Be Careful: Never Share Sensitive Information
As a Relevant Person you will have access to information that is not available to the general public, such as knowing that a team mate is injured or that the coach is putting out a weakened side. This is considered sensitive, privileged or inside information. This information could be sought by people who would then use that knowledge to secure an unfair advantage to make a financial gain.
There is nothing wrong with you having sensitive information; it is what you do with it that matters. Most Relevant Persons know that they should not discuss important information with anyone outside of their association, team or coaching staff (with or without reward) where the Relevant Person might reasonably be expected to know that its disclosure could be used in relation to betting.
Be Clean: Never Fix an Event
Play fairly, honestly and never fix an event or part of an event. Whatever the reason, do not make any attempt to adversely influence the natural course of an event or competition, or part of an event or competition. Sporting contests must always be an honest test of skill and ability and the results must remain uncertain. Fixing an event or competition, or part of an event or competition goes against the rules and ethics of sport and when caught, you may receive a fine, suspension, lifetime ban from your sport, and/or even a criminal prosecution.
Do not put yourself at risk by following these simple principles:
Always perform to the best of your abilities.
Never accept to fix a match. Say no immediately. Do not let yourself be manipulated - unscrupulous individuals might try to develop a relationship with you built on favours or fears that they will then try to exploit for their benefit in possibly fixing an event. This can include the offer of gifts, money and support.
Seek treatment for addictions and avoid running up debts as this may be a trigger for unscrupulous individuals to target you to fix competitions. Get help before things get out of control.
Be Open: Tell Someone if You Are Approached
If you hear something suspicious or if anyone approaches you to ask about fixing any part of a match then you must tell someone at Badminton New Zealand (this person is stipulated in the National Policy) straight away. If someone offers you money or favours for sensitive information then you should also inform the person specified above. Any threats or suspicions of corrupt behaviour should always be reported. The police and national laws are there to protect you. Badminton New Zealand has developed the National Policy and the procedures contained in it to help.
I Need Help
Your point of contact for anti match-fixing matters is: