An incredible, action-packed eight days of badminton across venues in North Harbour & Waikato saw over 200 players take to court in the various 2020 New Zealand National Age Group Championships.
Under 17 National Championships
The first event, NZ U17 National Championships, saw players make their mark, forcing early exits from a handful of top seeds. North Harbour's Chris Benzie and Ashley Tan were primed to claim a hattrick of titles, both featuring in three finals.
Benzie opened his campaign, taking out the Boys' Singles over Auckland's Daniel Hu in a nail-biting three games; 23-21 18-21 21-14. Benzie continued to claim finals glory, teaming up with Dylan Naera to claim the Boys' Doubles against Hu & Ethan Chuang. Meanwhile, Tan was comfortable in the Girls' Singles final over Auckland's Smile Li, 21-17, 21-15. Tan returned to court in the Girls' Doubles with teammate Anna Ryu to clutch a second title 22-20, 12-21, 21-18 over Angelina Ung & Camellia Zhou.
With two titles under their belt, Benzie & Tan were partnered and poised to claim the Mixed Doubles until, Naera & Zhou halted their run. Despite having match point opportunities, Tan & Benzie were unable to close out the second game, handing Naera/Zhou the momentum and eventually the match and title; 17-21, 26-24, 21-18.
Waitakere's Hugo Chou was awarded the NZ U17 Umpire Award for his outstanding efforts in the umpiring chair.
Under 13 National Championships
The NZ U13 National Championships ran in conjunction with the U17s, at sister venue Active Badminton Centre. It was North Harbour's Tony Yu who proved his dominance in the U13 age group, without dropping a game ahead of finals day. Paired with Mads Siegemund, the pair claimed a hotly contested Boys Doubles title over Von Lee Ooi and Oscar Wu. Yu continued his charge on Ooi, claiming the Boys Singles' title in a 3-game thriller 14-21, 21-11, 21-16. Inspired on his winning streak, Yu concluded the day with Shuyu Lu for a comfortable 21-11, 21-10 Mixed Doubles victory.
Both Lu and Josephine Zhao had standout performances in the girl's events with the pair claiming the Girls Doubles title over fellow Harbour players; Yanxi Liu & Natalie Ting. Zhao also took the Girls' Singles title, following an hour-long contest over top-seeded Rosie Yang.
Despite a host of fantastic umpiring within the age group, Auckland's Oscar Wu was awarded the NZ U13 Umpire Award at this year's event.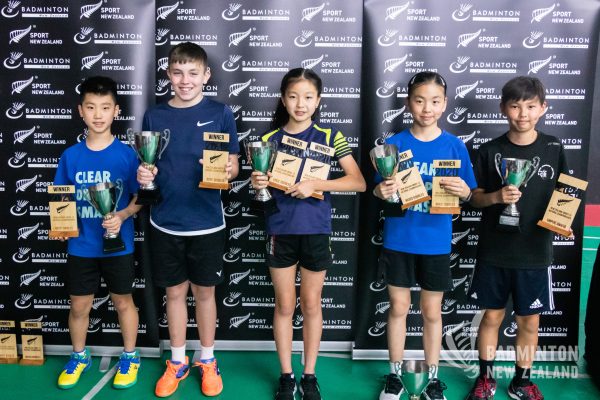 Under 15 National Championships
Following the U13 and U17 National Championships, the junior contingent migrated to the Waikato region to contest the NZ U15 and U19 National Championships.
The New Zealand Under 15 National Championships promised a bounty of matches and excitement, with the largest entries of all age group national championships in 2020.
After a tough semi final loss in the Boys' Singles, Raphael Deloy teamed up with Nanna Siegemund to beat Jaden Lei Mingoa/Katarina Ung 21-7 21-10 to claim the Mixed Doubles title.
It was an all-North Harbour affair in the singles finals as an impressive Lillian Cao took the court to defeat Amanda Ting in three games, 17-21 21-19 21-8.
Ethan Chuang however provided too dominant in the Boys Singles, as he beat North Harbour teammate Mingoa 21-15 21-9 before then pairing up with Mingoa to win the Boys Doubles beating Joseph Wu and Owen Wu 21-18 21-18. The impressive skills on court concluded with the closest match of the Finals taking place between Lillian Cao and Amanda Ting in the Girls' Doubles, finding a win over Nishika Jain and Katarina Ung, 21-16 17-21 21-18.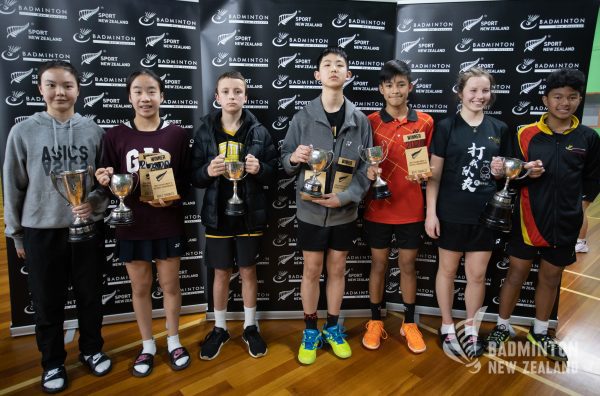 Under 19 National Championships
Alongside the U15 finals, the New Zealand Under 19 National Championship finals were streamed live to SKY Sport Next, with thousands jumping online to watch.
In the opening final, NZ U17 finalists Chris Benzie and Ashley Tan struggled to keep up with the established pair of Jack Wang and Roanne Apalisok. Improving on 2019's result as finalists, Wang and Apalisok proved one better to claim the NZ U19 Mixed Doubles title.
Hot favourite, Shaunna Li took the court and continued her dominant year, adding the New Zealand U19 Women's Singles title to collection, defeating a spirited Jenny Zhu, 21-11 21-11.
Men's Singles was next on the slate, with North Harbour's Ricky Cheng and Auckland's Clive Luna providing thrilling entertainment. In a back and forth battle, Cheng had the edge to close out the match 19-21 21-15 21-13.
In an emotional replay of the 2019 NZ U19 Women's Doubles Final, Apalisok and Janice Jiang were able to outclass Li & Tan 21-16 12-21 21-17 to take the three peat in back to back titles. Jiang summed it up well in her post match interview, "this is my last year as an Under 19 and we've won three years in a row, so it's a really cool feeling".
Finals day concluded with both Luna and Wang combining to dispatch unseeded pair Aaron Chen and Steven Lin 21-9 21-11 in relatively quick fashion. It made it two titles for Wang in his last junior event, while Luna was pleased to take home a title after coming close earlier in the day "it feels much better, it feels great to win".
The event rounded out with Alex Galt and Hugo Chou awarded the Umpire Award for their respective U15 and U19 Championships, a fitting recognition for their efforts in the umpire chair.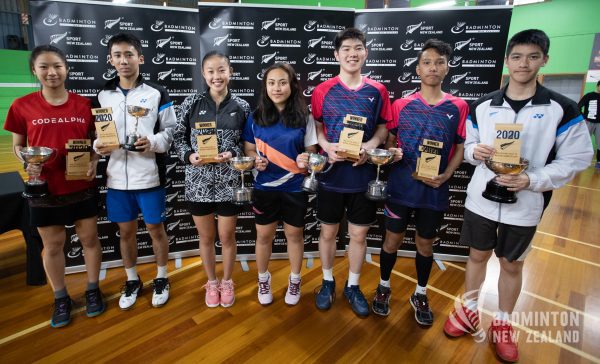 Check out some of the highlights below