Badminton New Zealand is excited to announce changes to our staff and structure that will better position the organisation for continued success. Following the new strategic plan, the changing landscape due to the COVID-19 pandemic and the resignation of Chief Executive Joe Hitchcock, these changes will help future proof the organisation.
We also have factored in the resignation of Community Manager Brent Miller who is heading overseas in early 2022. Badminton New Zealand would like to take this opportunity to extend our sincere thanks to Brent who has done an amazing job in his role over the last three years, and through his involvement in our performance coaching space over the last six years. Brent will leave huge shoes to fill as he has done so much not only for Badminton New Zealand, but for the Associations he has worked closely with and the wider badminton community and players across New Zealand.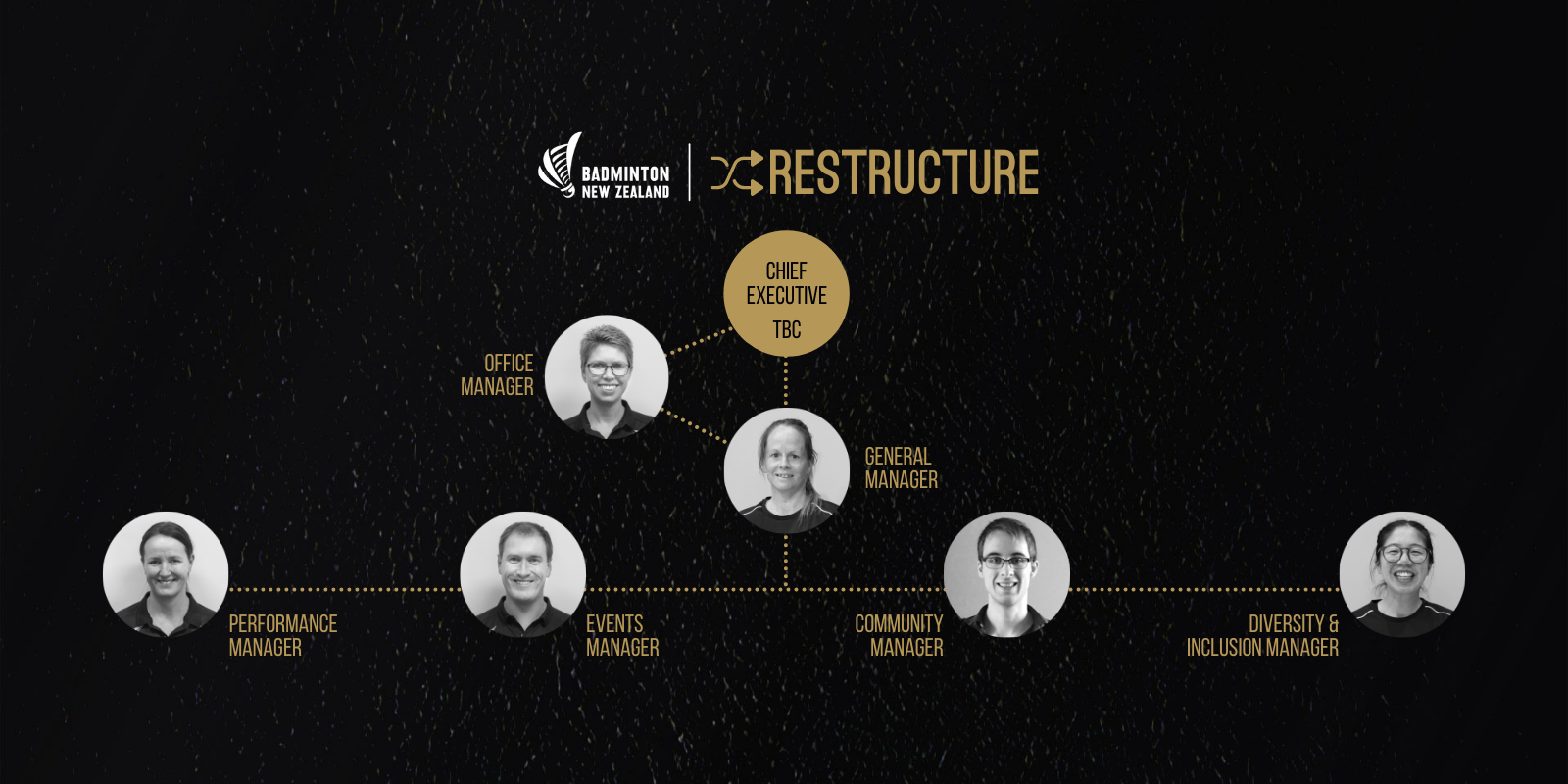 Key to the change in Badminton New Zealand's structure is the newly created General Manager role that will oversee the operational planning, monitoring and reporting functions of the organisation's deliverables with key stakeholders. It will ensure high-quality delivery is maintained and that the organisation is better aligned to achieve outcomes for the community. It will also provide a better opportunity for the new Chief Executive to focus on Badminton New Zealand's strategy, external opportunities and continuing the growth of impact of the organisation. Donna Trow will step into the General Manager role from the 1st October 2021 and Badminton New Zealand is delighted that she will extend her leadership and management skills into this important new role.
Badminton New Zealand are currently scoping the development components that need to be covered and this will likely form a new position or contract with a focus on the coaching space.
Current Events Manager Sam Paterson will move into the Community Manager's role from the 1st January 2022 and this will be a great opportunity for Sam to utilize his strong connections with Associations and grow his skill set in organisation and workforce capability and capacity building. Jonathon Stone will then lead the Events Team and manage newly appointed staff and contractors linked to delivering our national events and competitions.
Badminton New Zealand have already announced that Michelle Au has shifted into the new Diversity and Inclusion Manager's role where she will lead an extension of our work in the para badminton, gender equity, Asian engagement and general diversity and inclusion space.
There will be consistency with Performance Manager / National Coach Rikke Olsen Siegemund and Office Manager Colleen Van de Laar staying in their positions with minimal change to their roles. The newly appointed Chief Executive will then join the organisation following the recruitment process which is in progress now. Badminton New Zealand will provide further information regarding these changes the organisational structure, and the new roles and responsibilities of all the team over the next few months.
Tags: